Thyme herb benefits
Thyme herb benefits abound but, for me, there's only one that really counts; outstanding flavour.
In these days of double blind studies and research in respected scientific journals, one hesitates to make outlandish claims.
But of the taste of thyme there can be no question. It's just beautiful in any number of dishes.
Today we'll look at roasted butternut with thyme; or, winter squash as the North Americans call it. It's pure heaven.
Yes, heaven because butternut is definitely one of the good Lord's gifts to mankind and we ignore it at our peril. Loaded with beta carotene, fibre and old fashioned superb taste it's a winner; there's absolutely no need for flavour enhancers.
Used since antiquity for a variety of purposes from embalming the dead to giving us courage in difficult times, I love thyme with butternut. You may find many other uses for it like its culinary benefits in cheeses and wines.
It grows like a weed incidentally. Just get a root from a friend and put it in a pot with well rotted compost, and you'll have a lifetime of pleasure; thyme is a perennial. It withstands both heat and cold, and if you forget to water the plant, it'll survive.
Thyme herb benefits
Thyme herb benefits are all about a phenol compound called thymol.

Thyme herb benefits are declared by the dozen, but whether it will give you courage, I have my doubts. But it does contain a phenol compound called thymol which does have proven antiseptic properties.
It also has antifungal virtues, as in athletes' foot and is often used to reduce candida in patients on cancer treatment.
In addition thyme has antibiotic properties.
And as an anti oxidant it lends virtue to any meal.

For me, it's just one of those weeds that we try to use in flavouring our food on a regular basis. I'm convinced that it's because she who must be obeyed and I include these herbs daily in our diet that we very rarely have need for drugs and antibiotics; can you imagine consulting your medical doctor less than once a year, and then because you got a speck of brick dust in your eye whilst chasing a wall?
Start looking to add a rainbow of coloured foods to your menu. 
Neither of us have had any medication for over a year and it's not impossible that thyme herb benefits is one of the reasons.
I regularly see our honeybees at the thyme flowers, so these phenols will also be found in the raw honey we enjoy daily.
Score the flesh and dribble with olive oil.
A generous dab of butter, thyme and garlic in the hollow.
Add your own favourites; lime, tomato and jalapeno?
Roast 180*C for one hour, or until tender.

Roasted butternut

Roasted butternut is surely one of my favourite foods, rich in beta carotene; thyme herb benefits abound.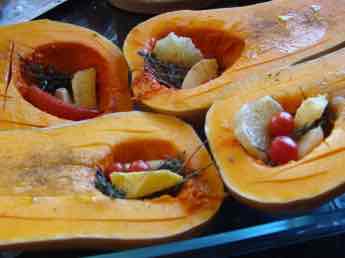 Test with a fork if it's tender right down to the skin. I like my butternut well roasted; the garlic, thyme and chili make it divine, each adding their anti inflammatory properties.
And, yes, butter is back. A conclusive study of 80 of the main research projects on cholesterol prove that margarine has no benefit over butter. Here's more information on roasted butternut squash recipes.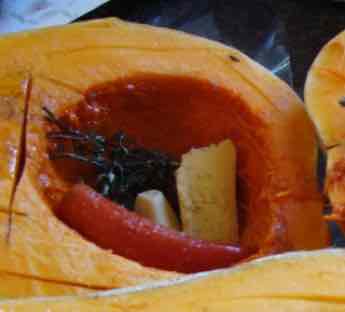 Solar power

Becoming a greenie does change your habits; because we are able to bake our roasted butternut using solar power, most of our cooking requiring plenty of energy is done during the day.
We haven't contemplated going off the grid because that would mean considerable inconvenience, though not hardship. The early morning cup of tea I'm enjoying was brewed using utility and not solar power; I'm just wondering what a touch of thyme herb benefits would do for the cuppa?

But with 4kw of residential solar panels we certainly could manage without the utility if push came to shove.

Mind you we do store up hot water, boiled when we have excess solar power in thermos flasks.

Hummus

Butternut hummus is just one of hundreds of delicious and healthy chickpea recipes.

Keep a scoop of your roasted butternut back to go in your favourite authentic hummus recipe.
If you're eating low glycemic foods like these on a regular basis, you need have no fears of cholesterol or obesity; the flavour and herb benefits of your thyme will infuse the hummus. 
Organic butternut

Organic butternut is worth a thought if you have a large garden; it's not difficult but they do have a long growing season.
Butternut need deep compost to grow in; they are heavy feeders.
Actually the best organic butternut grows right out of the compost heap; your thyme will flourish there too, but it's easier in a pot at the kitchen door.
I especially love half a dozen sprigs of thyme herb benefits in our eggs Florentine.

In short, our thyme herb is a plant to grow in your own garden, rather than buy dried in bottles that age and get oxidised. It's so easy, and has beautiful blue flowers that the bees love, so it supports them too.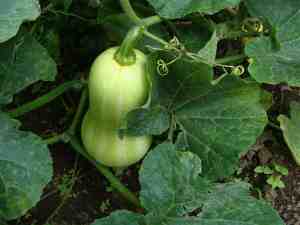 Banting diet

Banting diet isn't one of my favourites, but it does help folk lose a substantial amount of weight, without feeling famished. Neither butternut nor chickpeas are allowed, yet both have very low glycemic index. Thyme herb benefits are not frowned upon.

Healthy choice foods

Healthy choice foods should include a wide range of coloured carotenes. Enjoying eight to ten such delights every day research shows will reduce the all cause of death by a massive 35%. Healthy choice foods should regularly include organic greens, yellows, oranges and purples; your thyme herb benefits are just a very small part of the deal.
Bernard Preston

Bernard Preston is a semiretired chiropractor with a passion for healthy living and delicious meals with herbs; weeds he calls them.  Thyme herb benefits on bobotie recipes is one of his latest favourites.

---
Bernard Preston

»
Roasted butternut squash recipe
» Thyme herb benefits
---
Did you find this page interesting? How about forwarding it to a friend, or book and food junkie. Or, better still, Face Book or Twitter it. 
Ignore: EU law insists that we place the following on our site; we do not use cookies. "Advertisers use cookies to personalise content and ads, to provide social media features and to analyse our traffic. They also share information from your device with their social media, advertising and analytics partners."