Bernie's beetroot soup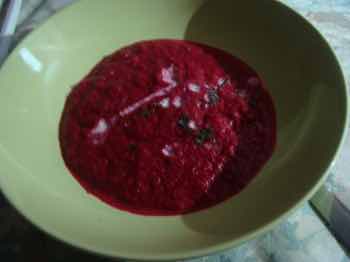 Bernie's beetroot soup is just the traditional Polish borscht, made alternately with a chicken-bones stock.
This page was last updated by Bernard Preston on 22nd March, 2020.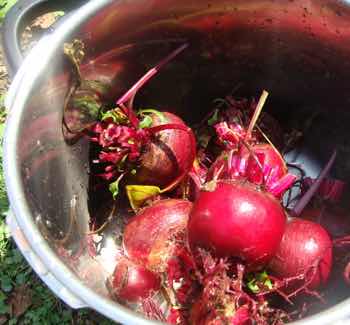 Notice incidentally that this is cooked on an induction stove; a wonderful innovation for any kitchen, they use half the electricity and cook at twice the speed.
I have had a love affair with beetroot dishes ever since I discovered, after years of misery, that its soluble fibre was the cure for my miserable chronic constipation. Whenever I get gummed up these days, I know where to turn.
Follow it up with Helen's fifteen-euro salad, and perhaps stewed prunes for breakfast and I guarantee the rabbit pellets will be a thing of the past.
This is not just a matter of inconvenience. Chronic constipation is the underlying cause of many serious bowel conditions including colorectal disease, and is certainly a factor in acute lower back pain.
Bearing down to pass the stool is not just agony but will also certainly aggravate a slipped disc; that is the DC speaking.
Borscht is usually a vegetable dish but I often make it using our chicken-bones bouillon. I abhor throwing away all the pulp when making a veggie stock; that is where more than half the goodies are.
Just compare OJ from a carton and freshly squeezed orange juice including the pulp; chalk and cheese.
The traditional vegetables in your borscht would be beetroot, onion, carrots, celery, tomato and a parsnip. Add some vinegar and sour-cream and you have the tantalising sweet and sour taste.
Some recipes use red wine instead of vinegar; I have yet to try it, but it sounds good.
If the beets are young enough, they have plenty of sweetness; no added sugar, or perhaps just a teaspoon, is necessary. Add your favourite spices and some fresh dill and you have Bernie's beetroot soup.
A pressure cooker means cutting the time by two-thirds; perfect for the busy chef, and a nice little saving on your electricity bill, and your carbon footprint. If you potter around my Bernard Preston site, you will soon realise both are big on my agenda; I worry that our pristine world will not be there for my grandchildren to enjoy as I have. I hope that bothers you too; stuff the kids is what most people actually practise, even if they say differently. Actions count for more than words.
Bernie's beetroot soup
"Anyone who tells a lie does not have a pure heart, and cannot make a good soup."
- Ludwig van Beethoven
Bernie's beetroot soup for something very easy to make, but a little different. I would lay even money on you never having enjoyed it before.
We always keep our chicken-bones in the freezer, and then make up the stock; it is very strong so you must dilute it several times. Hopefully you have a pressure cooker; in half an hour you will have the wonderful benefits of this anti-inflammatory medicine to add to the flavour; that is proven information from Harvard, incidentally.
Ingredients
Half a dozen medium sized beets
Small bunch of beet greens
1 large chopped onion
2 large carrots
2 sticks of celery
1 chopped parsnip
3 large ripe tomatoes

Large pat of butter to saute the onion
3 Tbsp of apple or grape cider vinegar
1/2 cup of fresh cream
Salt, pepper, fine chopped dill and sour cream for a topping.
1/2 tsp mixed spices.

My choice of spices is a stick of cinnamon and a few whole cloves which should be removed before liquidising; it is not a train-smash if you cannot locate them all.
And maybe a little allspice and a touch of cumin would be to your liking. You choose your favourites.
---
Newsletter
Our newsletter is entitled "create a cyan zone" at your home, preserving both yourself, your family and friends, and Mother Earth for future generations. We promise not to spam you with daily emails promoting various products. You may get an occasional nudge to buy one of my books!
Here are the back issues.

---
Pressure cook the beetroot for fifteen minutes, cool them and then peel off their skins which you can discard. Add your choice of mixed spices, salt and pepper, and the vinegar and set aside whilst you prepare the other vegetables.
Add the chopped vegetables, minus the tomato and saute further for a few minutes.
Saute the chopped onion lightly in the butter.
Add the chicken or vegetable bouillon and simmer for 15 minutes.

Add the chopped tomatoes and boil until all the vegetables are tender.
Add the chopped beet greens.
Add the beetroot, spices and vinegar and simmer for another five minutes. Taste and decide if you want it sweeter, or more sour. You could add a teaspoon of honey; I did not.

After removing the cinnamon stick and cloves, optional, add the cream and then use a stick blender to turn it into a puree.
Pour into the soup plates, and add a dollop of sour cream and garnish with the chopped dill.
It is just as good hot or cold.
Borscht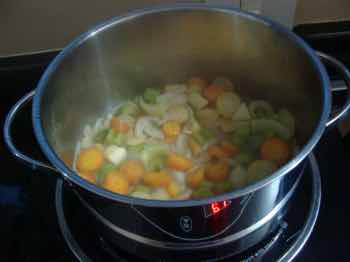 Whilst not wanting to get neurotic about your borscht, it is a good idea to count the colours you enjoy every day. There's strong research showing that the phytochemicals in your food prevent many diseases; how many does Bernie's beetroot soup have?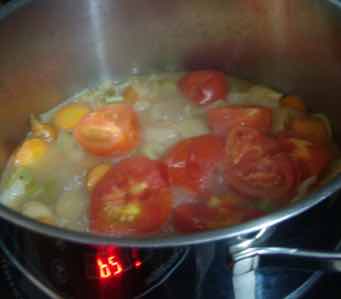 Induction cooktop stoves are so quick.
More, following a large group of people over twenty years, scientists found that those enjoying seven or eight coloured foods every day had a 35% lower all cause of death; that is massive.
Bernie's soup has beta carotenes in the beets, lutein in the greens and more phytochemicals in the carrots; then there is anti-tumour falcarinol in parsnips, allicin in the onion and lycopene in the tomatoes. 
In short, borscht is a medicine chest of phytochemicals and fibre, not to mention the vitamins and minerals.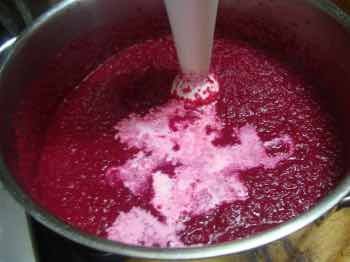 Constipation
Bernie's beetroot soup is a wonderful concoction of soluble and insoluble fibre that, enjoyed regularly, will deal with the most stubborn constipation; remember it is the prime cause of colorectal malignant disease; that is no small beer.
Beets together with Helen's fifteen euro salad, and stewed prunes for breakfast totally cured me of years of misery.
Quick constipation relief - use the site search function.

Did you find this page interesting? How about forwarding it to a friend, or book and food junkie; or, better still, a Facebook or Twitter tick would help.
Address:
56 Groenekloof Rd,
Hilton, KZN
South Africa
Website:
https://www.bernard-preston.com