What is artisan bread?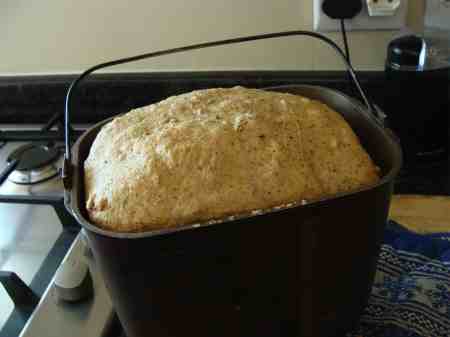 You may have seen the sign up advertising a local bakery, and now you are wondering just what is artisan bread?
Is it bread for the worker, or is it all about a labour of love on the part of the baker? Truth be told it's about a delicious loaf, so tasty that you feel reluctant to smear it with jam, or a smoked salmon dip or something else, just to give it flavour.
It's the traditional way to make a loaf, done for probably thousands of years, but with a little update like using a bread machine; Bernard Preston doesn't have all that much time to spend baking.
Can you make bread in a short time? The answer is yes and no.
Yes, you don't have to spend hours with an apron on, but no, it won't be done, start to finish in a short time.
In fact it takes me only about six minutes, but the first three must be spent the day before you want to enjoy your artisan bread. This is a traditional method of baking that doesn't require hours of your time, and the taste makes it so worthwhile.
What's more, because our recipe uses 100 percent wholemeal flour, you won't even put on weight; it has a low glycemic index so you get no insulin rush; that's why many refined starches and supermarket rolls and bread make us obese; a sudden rise in blood sugar.
What is artisan bread?
What is artisan bread but the staff of life made literally in five or six minutes; at about half the price of a tasteless supermarket loaf. Well, that depends on whether you are ready to spend the money up front to buy a wheat grinder, and find a farmer in your district.
Artisan bread is about the traditional way to prepare and bake a loaf; no chemicals to speed up the fermentation and slices that are so delicious that you really don't need peanut butter or honey to dicky it up.
There's one other important factor; not only does artisan bread taste a great deal better than your supermarket loaf, but the long, slow fermentation means that the fly in the ointment is broken down.
Proline is the amino acid in wheat that causes gluten intolerance; in contrast with all the others, it has a ring structure that is resistant to natural digestion; it needs time, and it requires the enzymes from the natural fermentation process, that you simply don't get from modern, rushed baking methods.
There are two ways to go about answering the question, what is artisan bread?
The first is a fairly long process of making a large amount of dough that you can store in the fridge; whenever you need a loaf you take a pound sized chunk and satisfy your need to answer what is artisan bread.
It all involves several hours of attention whilst the dough cures and rises. If you have the time, by all means follow these methods; they are amply described on the web so I won't repeat them.
The second, Bernard Preston's tried and trusted method, is to prepare a sourdough mix that you keep in the fridge; every day your take a few tablespoons of the live lactobacillus culture, add it to the stone ground flour, leave it overnight for a long fermentation, and in the morning spend no more than five minutes to complete my answer to what is artisan bread.
You will need at least a bread machine and preferably, if you are going to use 100 percent wholemeal flour, a wheat grinder; it's difficult to purchase the real deal but important because those essential fatty acids go rancid quite quickly. You can read about that at does flour go bad?
Don't bother reading any further if you have no desire to purchase a bread machine. By the way you can often buy them second hand very cheaply; for some reason that is beyond me they are apparently the most under utilised appliance in the kitchen. We use ours daily. Get one with a five hour cycle.

Measure out the required amount of 100% wholemeal flour and add to the baking dish. 650ml for our Panasonic.

Measure out about half a cup of the sourdough mixture.
Add the required unchlorinated water.  300ml.

Turn the paddle a few times and cover the baking dish with a damp cloth and allow it to stand overnight.

I don't add honey or sugar at this stage as we want the lactobacillus to feed on the wholemeal flour.

That shouldn't have taken you more than three minutes; certainly once you have made your sourdough bread recipe starter; that's a once off and it keeps in the fridge literally for years. You have to feed it with rye flour and honey periodically.
In the morning, add

One and half teaspoons of dried yeast, optional.

A tablespoon of honey, or sugar.
A teaspoon of salt.

A goodly chunk of butter; that lowers the GI further.

Place the oven dish in the bread machine, and turn it on to the five hour cycle. Bob's your uncle.
That shouldn't have taken more than two minutes; in five hours you'll know what is artisan bread. Something so delicious and not fattening if you use 100% wholemeal flour with all the fibre, that you are sure to happily spend the required five minutes per day; nothing messy; you don't even handle the dough.
Heartburn
Many important discoveries have been made over the years quite by chance, but by an observant person. One such fascinating person was Wilhelm Röntgen who is credited with the discovery of x-ray, of vital importance for all involved in the diagnosis and treatment of bone and joint conditions. Chiropractors view them on a daily basis.
Another less heady discovery was that artisan bread made with no yeast is rather heavy but gives us no heartburn, as do most purchased loaves, and to a lesser extent our own panera bread. I simply forgot to add the yeast.

We now enjoy it happily for dinner, and with various soups that would normally give me great discomfort some hours later.
Bread experiments are fun, and some findings are of great consequence.

Lignans
Lignans are very important phytochemicals found in 100% whole grains and seeds; flax, sesame and wheat, for example. Our artisan bread is rich in them, but not if you conventional bread flour.
Lignans have a very important function; they have an oestrogen like structure, and so block the hormone sites in the breast; much less cancer. We eat refined wheat rolls and bread, sans lignans, at our peril. Is it any wonder that one in eight women succumb?

Method one to make what they call five minute artisan bread, but they admit it takes 40 minutes to rise, and preheating the oven for another twenty, and then bake for 30 minutes; that's too arduous and time consuming for Bernard Preston's liking. It also uses a lot of electricity.

Sourdough bread recipe starter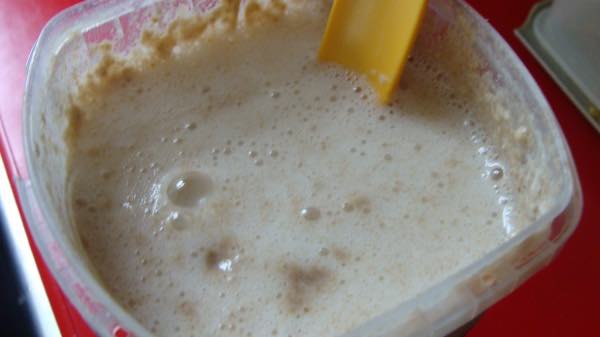 Making your sourdough bread recipe starter is a breeze, but the whole process does take a few days; then what is artisan bread is very easily answered, far more simply than those time consuming methods described on the web. All you need is
Rye flour
Unchlorinated spring water
Preferably raw honey, but supermarket stuff will probably work.

Once you've made your sourdough bread recipe starter it keeps literally for years in the fridge; every day you dip in for a half a cup of the mixture.
Actually... if you're going to make this every day, I'd split that starter in two. It gets too dilute and 24 hours is a bit short to grow enough bacteria; or a one litre container.
Happy baking! I have a lot of hobbies and getting this down to a fine art has become necessary. I'm not exaggerating; even with grinding the healthy flour, which is what I recommend, it takes only six minutes.
Earth hour

Saving the planet and reducing our fossil fuel consumption is at the heart of earth hour. Turning on a large oven to bake one or two loaves of artisan bread is enormously wasteful.
We have two ways of reducing our carbon footprint; the first is to use a bread machine that uses a fraction of the electricity, and the second is to use power from our solar generator; then there is no cost to the planet. It's not rocket science, but some careful planning is necessary.

Have A Great Story About This Topic?
Do you have a story or question about bread making? Share it! Bread nuts are a small community who want to be healthier and sharing tips and questions is what it's all about.
Did you find this page interesting? How about forwarding it to a friend, or book and food junkie. Or, better still, Face Book or Twitter it. 
Ignore: EU law insists that we place the following on our site; we do not use cookies. "Advertisers use cookies to personalise content and ads, to provide social media features and to analyse our traffic. They also share information from your device with their social media, advertising and analytics partners."