Homemade hummus with lemon pulp
Homemade hummus with lemon pulp also needs freshly-roasted cumin seeds and tahini which is a sesame paste.
We need rather less than 1g of protein per kilogram of body weight, so an average person would want around 60g each day. A 100g steak would provide 25g, for example.
Protein

Steak
Chickpeas
1 egg

Cost/60g protein
R24
R3.20
R13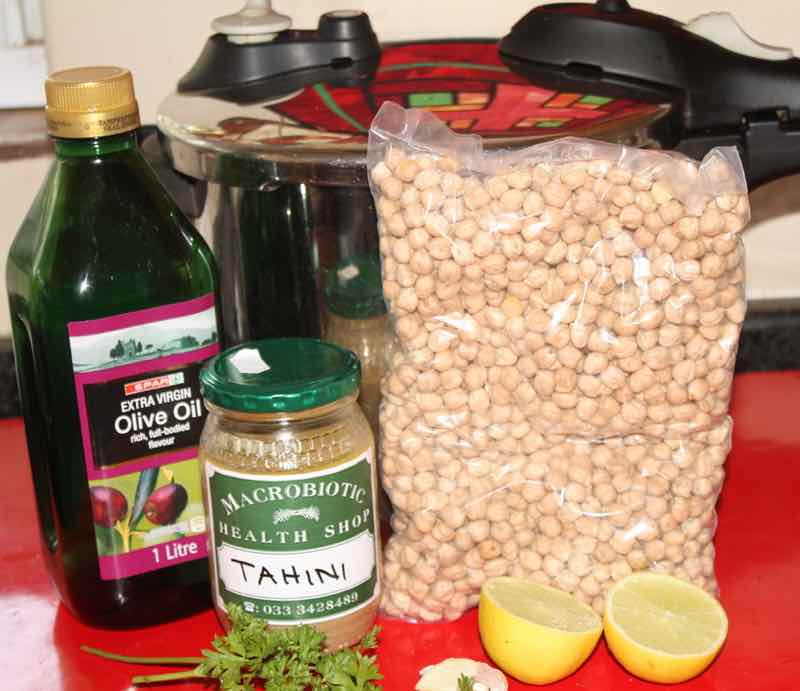 Ingredients
2 cups frozen chickpeas
1/2 lemon including the pulp
1 TBSP tahini-paste
1/2 tsp freshly-roasted cumin seeds
3 TBSP unchlorinated water
1 TBSP olive-oil
1 clove garlic
1 peppadew or slither of chili is optional.

1/2 tsp salt

100g of steak would cost around R10, but 100g of chickpeas less than R1 if you buy them by the kilo, pressure-cook and freeze them for convenient use later. From a can they cost four times as much.
Most families are feeling the financial pinch right now in these C-19 times so for about one tenth of the price of meat or eggs you can put the same amount of protein on the table, with zero cholesterol if that's a bother for you. 

So it comes as no surprise that chickpeas are the main source of protein around the world; along with the many other legumes too like beans and lentils. Incidentally they are also the chief source of nitrogen fixation from the atmosphere which provides the element that is key to the structure of amino acids, the building blocks of protein.
Lightning is the other source.

There are two important differences though; chickpeas have very little flavour so you have to dickie them up with herbs and spices; lemons are commonly used too.
---
"When eating well doesn't feel like a hardship, it is easy to stick with it."
- American Test Kitchen

---
And secondly chickpeas are not a complete protein; they are rich in lysine, but deficient in methionine, two important essential amino acids that we cannot live without.
So traditionally, vegetarians would add either a grain or a seed, which are generally rich in methionine, to their legumes. The traditional 'stamp corn and beans' comes to mind for South Africans, and succotash to Americans.

Hummus uses these principles supplying all the required essential amino acids by adding a sesame seed paste called tahini to the chickpeas, and various seasonings to make it more palatable. It is a staple in the Mediterranean, known for its healthy food. We have at least a large tablespoon every single day, making a green salad far more interesting; about 3g of protein, and 2g of unrefined low GI carbs. Vegans would have a lot more.

Legumes are known for their satiety; they satisfy that gnawing hunger pang far more satisfactorily that a packet of chips, cookie or cola. A tablespoon of hummus at 11am also won't send your blood glucose into orbit as those other snacks may. The coronavirus is targeting those who are on the edge of or frankly diabetic. Staying away from refined carbs at this time is more important than ever.
So, back to homemade hummus with lemon pulp. Most recipes recommend only the juice, but then you are discarding more than half of the very important nutrients that are to be found in citrus. Use some of the zest too and then the whole fruit, but the pith is very bitter so that we do toss into the compost bin.
You can buy hummus in the supermarket; but there's a massive ten times mark up in price; then it is twice as much as steak. It costs around R15 to make a whole kilogram of your own homemade hummus.
Next week we will go into the details of how to do it exactly, but start by getting a bottle of tahini from a Greek shop, a packet of dried chickpeas and whole cumin seeds from an Indian store and a bottle of olive oil and some lemons or limes. About R200 will make roughly 3kg of delicious homemade hummus, with a lot of the olive oil and tahini left over; enough for months.
It takes just five minutes once you are in the groove; what we call slow food, made fast. Marvelous cheap protein, good for us, and good for the planet. Legumes suck up the greenhouse gases, not produce them as animal protein does. 
Homemade hummus with lemon pulp
Homemade hummus with lemon pulp means first soaking, rinsing and pressure-cooking the chickpeas.

---
Newsletter
Our newsletter is entitled "create a cyan zone" at your home, preserving both yourself, the family and friends, and Mother Earth for future generations. We promise not to spam you with daily emails promoting various products. You may get an occasional nudge to buy one of my books!
Here are the back issues.

Mill your own flour

Bake your own sourdough bread




Microplastics from our water

Alternative types of water storage




Wear your clothes out

Comfort foods




Create a bee-friendly environment




Go to bed slightly hungry

Keep bees

Blue zone folk are religious
Reduce plastic waste

Family is important

What can go in compost?

Grow broad beans for longevity

Harvest and store sunshine

Blue zone exercise

Harvest and store your rainwater

Create a cyan zone at your home
---
This is really part of a series on the virtues of whole lemons and limes, including the pulp and zest, but not the pith, and chickpeas as a cheap source of very nutritious protein for the whole family. The other great virtue of hummus for me is that it will turn an otherwise perhaps dull green salad into a treat.
There is still much anxiety about pressure cookers, perhaps because of a purple patch on the ceiling that is indelibly imprinted on your memories from childhood days. But it is unfounded; the modern pressure cooker is a sophisticated appliance with a foolproof locking device. I strongly recommend them as they reduce cooking time by two-thirds, saving electricity too obviously. Get a stainless steel one, and on a sale they are not so expensive.
Having said that, mindful cooking is just as important as when working with a circular saw or angle grinder. Most cooks have sliced off a bit of the finger with a sharp knife or burned themselves with boiling oil; only do very basic food preparation when tired or angry. Remember to set the safety catch, and don't turn the stove on high, and go down the garden for a forest walk.
Step one is to soak a kilogram of chickpeas overnight with plenty of water; rinse several times to remove the phytates. Almost cover the chickpeas with boiling water, half a lemon, and bring up to pressure for 20 minutes on the highest setting. Remember to set the safety catch! Cool, rinse several times again, drain and freeze in cup-sized packets.
Step two is to roast a few tablespoons of cumin seeds in a heavy-based frying pan, stirring frequently. Before the heavenly incense puts you into a swoon, turn off the heat; don't let them burn. Blend in a cheap coffee grinder. Once the cumin has cooled put the powder in a small airtight bottle and keep in the fridge.
This is Middle Eastern cuisine, so you are probably going to find the freshest ingredients at little Greek and Indian shops.
The slightly arduous part is over and you have enough for a month or more of hummus; from here on, it takes only five minutes. To begin with, I recommend you make a small amount as it does not keep more than a few days; have some daily with your salads, as a side dish, and even a tablespoon at 11 o'clock should the tapeworm start biting!
In a clean 500ml yoghurt container pour about a quarter of a cup of water, a slosh of olive oil, tsp of salt, clove of garlic and a slither of chilli. Now add a level teaspoon of your cumin powder, a sprig of parsley, perhaps a spring onion, and half a peeled lime or lemon with the pulp and zest, and a tablespoon of tahini. Optional is to add a slice of sweet fruit like mango, and frankly anything else that takes your fancy; chunks of celery, beetroot, freshly ground flaxseeds… use a stick blender to froth it all up.
Now add a cup of the thawed chickpeas, and blend until smooth. Add more water if it's too thick.  Cover with a little olive oil and a sprinkle of red pepper flakes, if you have any. Chickpeas have little taste, so dickie it up with your favourites. Enjoy! Finish it in a few days. 

Did you find this page interesting? How about forwarding it to a friend, or book and food junkie; or, better still, a Facebook or Twitter tick would help.
Address:
56 Groenekloof Rd,
Hilton, KZN
South Africa
Website:
https://www.bernard-preston.com