---
To keep Google happy we have started removing some links. If you see a phrase, such as 'healthy flour' in bold then just type whatever you are searching for in here.

---
Cauliflower soup recipe
Ingredients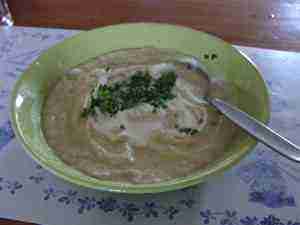 Cauliflower soup recipe has more protein and less starch than you probably realise.

1 tbsp butter (never use margarine or sunflower seed oil to fry with. If your cholesterol is high, just double the olive oil). Why?
1 tbs olive oil, or better still coconut oil.

1 onion or leek, chopped
2-4 cloves of garlic
2 tbs Indian curry paste
1 cauliflower broken into florets, slice the stalk thinly.
1 litre of chicken or vegetable stock

CHICKEN BONES BOUILLON ... rich in Glucosamine Chondroitin sulphate...



1/4 cup of yoghurt (Helen says this should be an optional!)
Cauliflower soup recipe

Cauliflower soup recipe has zero cholesterol and takes less than 30 minutes to prepare and cook; let's do it.

Heat the butter and oil in a large saucepan. Add onion and cook over low heat until soft.
Add garlic and curry paste.
Add the thinly sliced cauliflower stalks, and five minutes later the florettes, and stir to coat with the curry paste.
Add stock and simmer for 15 minutes.
Liquidise.
Return to the heat and stir in the yoghurt.
Add a spoon of fresh thick cream. If you're following all these veg and low meat-fat recipes, all the salads and fruit, your cholesterol may be dangerously low, and need a boost!
This is really just a recipe for spiced up mashed cauliflower.
Broccoli facts

What are the broccoli facts, and how does it compare with its first cousin in this cauliflower soup recipe?
Whilst I like cauliflower recipes, I find it rather bland myself, needing cheese, garlic, curry paste and, next to broccoli, I think it comes off rather second best.
We enjoy both regularly right through the winter but we do have to fight the hens off; they seem to know their value without having to be told to eat their greens. Another gate arrived yesterday so I'll be making another garden where the birds are only admitted once they're over.

Is that fact or opinion? So I decided to do a little research; yes, cauliflower is full of good stuff but, in almost every department, broccoli facts suggest that it is superior. More vitamins C, K and A especially, and richer in the antioxidants zinc and selenium.
Having said that, a rounded diet should draw from as many sources as possible. Cauliflower once a month, broccoli facts every week.
Neither broccoli nor cauliflower have significant fat, and both are high in soluble fibre, which is good for the colon. No more constipation blues!
The calories in cauliflower are surprisingly low, only 23 cal. 100g of cauli, about the same as in one square of chocolate! (600 cals in 100g bar)
Next week I'll try a mixed broccoli and cauliflower soup, a first.
| | | |
| --- | --- | --- |
| | Cauliflower | Broccoli |
| Protein | 1.84 | 2,38 |
| Carbohydrate | 4,11 | 7,18 |
| Fibre | 2,3 | 3,3 |
| Calcium | 16 | 40 |
| Magnesium | 9 | 21 |
| Potassium | 142 | 293 |
| Zinc | 0,17 | 0,45 |
| Selenium | 0,6 | 1,6 |
| Vit C | 44 | 65 |
| Folate | 44 | 108 |
| Vitamin A | 12 | 1548 |
| Vit E | 0,07 | 1,5 |
| Vit K | 13,8 | 141 |
| MUFAs | 0,032 | 0,04 |
| PUFAs | 0,217 | 0,17 |
Cooking cauliflower couldn't be easier, just slice the stalk thinly as above and simmer in a little water for five minutes, and then add the florets and steam on high heat for another five. 
Try yourself a broccoli and cauliflower soup based on both the above, and a cauliflower salad recipe is dead easy with our Olive Garden Salad Dressing ...
GREAT BRITISH MENU
Helen is just as critical as those Brit BBC critics. She advises that you drop the yoghurt and add some parsley. She's crazy about parsley. Frankly I don't agree, but sure, give it a try! No yoghurt, parsley!
The parsley doesn't get my vote on our cauliflower soup recipe, much as I love parsley, but next time I'll certainly give a sprinkling of very finely chopped parsley a try, thirty seconds before the end.
Tip: Never get tied down by a recipe. You want to add coriander? Fennel? Cumin? Give it a try.

---
"The world is a looking glass, and gives back to every man the reflection of his own face." 
William Makepeace Thackeray
---
Some cauli left over?
Eating from a wide variety of foods, and cooking them in as many different ways as you can think of is what keeps our enthusiasm for healthy food going.
Let's face it, plain cauliflower is not the most exciting food on the planet, but using florets of cauli left over from your cauliflower soup recipe in this ROAST VEGETABLES RECIPE with plenty of garlic, chilies, ginger... will reignite your enthusiasm for this important vegetable.
Gardening fiend? Think about HOW TO GROW CHILLIES ... you only need one or two plants to supply all your needs; surprisingly they are strongly anti inflammatory.

Just want plain cauliflower, perhaps for a caul salad?
Healthy choice foods

It's quite painful for me as a meat lover, but the research is unequivocal; we should all be eating less red meat, or at least adding a heap of healthy choice foods to our diet if we have no intention of reducing the animal flesh.
Can you have your red meat and eat it? Maybe, but you'd better make sure there are plenty of organic greens, delicious yellows and regular purples on the menu.
Did you find this page interesting? How about forwarding it to a friend, or book and food junkie. Or, better still, Face Book or Twitter it. 
Ignore: EU law insists even though we do not use cookies that we place the following on our site. "Advertisers use cookies to personalise content and ads, to provide social media features and to analyse our traffic. They also share information from your device with their social media, advertising and analytics partners."