Indian Saag recipe
I'm sure with all of us, periodically we go out to dinner and have a dish that we know we simply have to try; such was it with Indian Saag recipe.
The invitation to join friends at an Indian restaurant was always going to be a challenge for the old farts who like their home cooked fare, and consider restaurant food as a recipe for midnight pain. This was the exception that proves the rule; go out with friends to dinner occasionally even if you think you can cook better than them; now and again, you come across a place like Mali's restaurant in Durban, South Africa, and you know that they can certainly do Indian cooking far better than you ever could.
In fact when I go to a restaurant offering a curry, I always ask if there is an Indian chef which makes me unpopular periodically.

Ingredients for two
5 cups of chopped* Swiss chard

5 cups of kale
1/8 pound of butter
1 red peppadew*, including the seeds
1 clove of garlic
1.5 tsp of whole cumin seeds
1 tsp whole coriander seeds

1 TBSP of ground tumeric
1 cup of chicken or vegetable stock
1/2 tsp of salt

Go for it

Add the coriander and cumin seeds to a heavy pan and roast briefly until the intense fumes start smoking. Remove from the heat and grind.
Add the butter to the pan and stir in the coarsely chopped garlic, peppadew and tumeric for a minute or two.
Then add the freshly roasted and ground cumin and coriander, stir for another minute.
Add the stock and bring to the boil.

Meantime devein and then wash the Swiss chard (or spinach) and kale.*

When the stock is boiling, toss in the greens and salt. Cover and allow to simmer for five minutes. A bit longer if you've included the stalks.

Pour the whole into a deeper container and, using a stick blender, whir it up until it's rather smooth. Some folk like it coarse, and in fact you really don't need to liquidise it if you would rather not.
Pour your steaming Indian saag into deep bowls, swirl a little fresh cream around the surface and enjoy it with a wholegrain bread.
I loved the roti bread at the Indian restaurant, but it's made with cake flour; only for high and holy days; it's little different to white toast, nutritionally speaking.

Notes
* You are going to liquidise this Indian saag recipe, so only very coarse chopping of the ingredients is necessary.
* Indian dishes in my naivety seem to be red hot curries or mild spicy dishes.
Notice there is no curry powder in this Indian saag recipe; it won't burn.
* Peppadews are a mild chili; use a hotter pepper like jalapeno if you like.
* Spinach and kale stalks are fine, only they have less of the phytochemicals found in the green leaves. If you need more fibre for you know what, then include them.
* Wash the greens thoroughly to get out any frogs, snails and other creepy crawlies that also love organic veggies; if there are none, then you know it's been sprayed to hell; discard and start again! They are the mark of authenticity; the housewife's equivalent of the king's taster.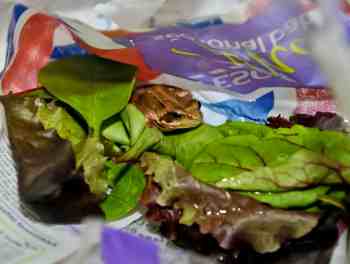 Spot the frog?

Indian saag recipe
Indian Saag recipe has many of our favourite ingredients; kale and spinach, cumin, coriander and chili.
Each of these spices would have their specific merit for those involved in herbal medicine, but the quantities are small and would constitute micronutrients; for example the the allicin in the garlic, a phytochemical in cumin that reduces inflammation, and so on.
Swiss chard, spinach and particularly the kale are rich in a phytochemical called lutein that protects the macular in the eye from degeneration; like the cartilage in joints can age and make us crippled, so this substance prevents cataracts and blindness in old age.
Macular degeneration is the chief cause of age onset blindness; I'd rather enjoy this Indian Saag regularly, wouldn't you?
Along with another phytochemical, zeaxanthin, lutein is very important for the macula.
If you're a smoker, and eschew your greens, then I'm afraid you'd better start planning for lutein macular degeneration.

I can't stress enough that kale and spinach are two of the easiest vegetables to grow in your garden. Freshly picked and washed makes such a difference to both the flavour and nutrient content of your veggies. Oxidation is the great enemy.
To enrich this Indian Saag recipe, you could toss in a few freshly picked, or frozen, if you must, green peas to increase the protein.
Remember that a recipe is only a starting point; go on and use your own creativity to make your special dishes. Cooking and experimenting with this and that is such fun; following Bernard Preston slavishly or any recipes for that matter can be so dull.
Turn your cooking into an art; be willing to experiment.

For the gardener in you
If you really want choice healthy food, then I strongly recommend you make two small patches in your garden, about a metre square each, dig in some compost and find out how to grow spinach; kale is grown in exactly the same way, either from seed or seedlings from your local nursery.
Everyone should be concerned with lutein macular degeneration; it's the chief cause of age onset blindness.
Take the Amsler test. Using one eye at a time, are there any wavy, distorted or blurred lines?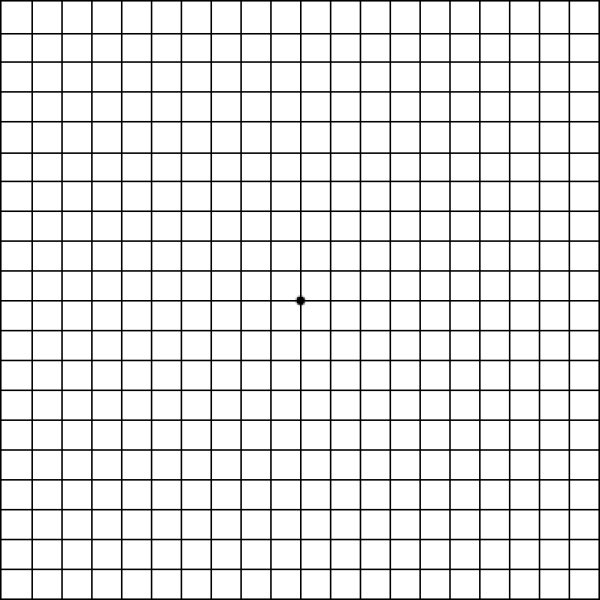 For more specific details on taking the Amsler test, go to our lutein macular degeneration page.

Did you find this page interesting? How about forwarding it to a friend, or book and food junkie. Or, better still, Face Book or Twitter it. 
Ignore: EU law insists even though we do not use cookies that we place the following on our site. "Advertisers use cookies to personalise content and ads, to provide social media features and to analyse our traffic. They also share information from your device with their social media, advertising and analytics partners."
Address:
56 Groenekloof Rd,
Hilton, KZN
South Africa
Website:
https://www.bernard-preston.com/