Eunuched
Eunuched reminds us that fortune favours not only the brave, but also the alert.

Eunuched is the next chapter in our saga, A Family Affair. The morning after the night before. Read on ...
'Gerhard's late this morning,' Tom hissed at the start of early morning training. 'Has he got a black eye too, Santie?'
'No, his face is fine,' Santie retorted.
Just then a message was relayed to the Sergeant in charge. Glancing at it, he looked up, 'Student Constable Veenstra, the colonel wants to see you. Now, at the double.'
Santie made her way to the Colonel's office, knowing the command could only mean trouble. Gerhard was his protégé. But she was not experiencing the slightest remorse.
The bastard had only got what was coming to all of his sort, one way or another. Rapists always get it eventually, she reasoned. Either a nasty little bug, or a kick in the crown jewels. He could consider himself lucky she hadn't poked out his eyes.

The colonel's face was grim: 'How could you do that to a man, Constable? The doc tells me that he may be ruined for life. Eunuched.'
'He was raping me, sir.'
'Don't tell me that the strongest and fittest woman in the class got herself into the compromising position where she could be raped. I don't believe it. Well, what have you to say for yourself?'
'Sir, it's true that I was stupid. He invited me to dinner and I accepted, not knowing that it was in one of the sergeants' home. I thought he was taking me to a restaurant.'
A Family Affair

A Family Affair is a trilogy by Bernard Preston; it traces the love affair between two women, and the man they seduce into giving them four children. Eunuched it lifted from Book I, The Bostonians.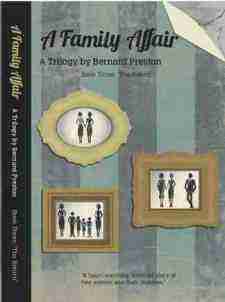 Eunuched

Eunuched brings to an end Santie Veenstra's life in the police college in Pretoria; one door closes, and another opens.
'Maybe so, Constable. But you were under no obligation to go with him.'
'He made me feel guilty, sir, telling me he had spent the whole afternoon preparing dinner. It was very foolish of me.'
'You make it sound very plausible, Constable, but your hatred and distrust of men in general is well known. You are going to be charged with assault with the intent to commit grievous bodily harm.'
'Sir, I was raped one hundred and thirty eight times by my father. I will never let any man do that to me again.'
The colonel put his head between his hands: 'Oh, my God, what is this world coming to?' He was silent for a few moments. 'I'm sorry, Constable. I didn't know. But you may still be facing a charge of assault. Can anyone attest to the fact your father abused you? A doctor? A relative?'
'My aunt, sir.'
He nodded. 'I'll support you as best I can, constable, when all the facts are out, but it doesn't look good.'
Neither Santie or Gerhard were at the closing parade. Colonel van Beest read out the awards of his two best students in absentia, something he had never done before.
Santie was booked off for a month. As for Gerhard, once the swelling of his testicles came down, he was indeed found to be a eunuch. At the pre-trial of Student Constable Santie Veenstra, two girls in her class testified under oath that Gerhard had raped them during their six months in the police college. The charges against Santie were quietly dropped, and the police decided that Gerhard had been adequately punished.
Bernard Preston

When not writing his lurid tales like Eunuched, Bernard Preston is a semi retired chiropractor.

A short leg

A short leg, an old fracture of the tibia perhaps, a collapsed arch in the foot and other conditions, causes a tilted pelvis and scoliosis. Research shows a higher incidence of arthritis in the spine, hip and back. It has nothing to do with being eunuched!

A simple, inexpensive insert in the shoe is the solution.
One of our three young men probably did have a short leg, causing discomfort when standing in the pub, or simply ambling along but usually not when marching; this is not a chiropractic book, so you can look to the case file for an example of how a heel lift can make a dramatic difference to your lower back pain.
---
"The game of life is the game of boomerangs. Our thoughts, deeds and words return to us sooner or later with astounding accuracy."
Florence Scovel Shinn
---
MAESTROS OF THE GUITAR
Love classical guitar music? I do. Maestros of the guitar.
Nutrition Corner

This nutritional corner at each page from A Family Affair is purely incidental; it has nothing to do with Eunuched really.

Toscanini wasn't a guitarist of course, but before every concert his jangled nerves would only be passified by his Celery Soup.
Child suffering from jangled nerves? Dyslexia or Attention Deficit? A mixture of fish oil and Evening Primrose Oil has scientifically proven effect. No side effects and far safer than dangerous medicines used for these conditions.
Useful links

Bernard Preston

»
A family affair
» Eunuched
Monthly Newsletter
Chiropractic-Help.com and Bernard-Preston.com send out a joint monthly newsletter. It covers an overview of a health topic (June 2010 issue #15 Tietzes Syndrome. Breastbone pain., always a nutritional corner (such as Cholesterol /Statins and aching legs), and a piece from Bernard Preston.
Sign up at the bottom of any Chiropractic Help Page, for example this one on the Causes of Osteoporosis , the most important page at Chiropractic Help. The newsletter is free, and one click cancels it if you find it boring or irrelevant.
Did you find this page interesting? How about forwarding it to a friend, or book and food junkie. Or, better still, Face Book or Twitter it. 
Address:
56 Groenekloof Rd,
Hilton, KZN
South Africa
Website:
https://www.bernard-preston.com/