Feeding kept bees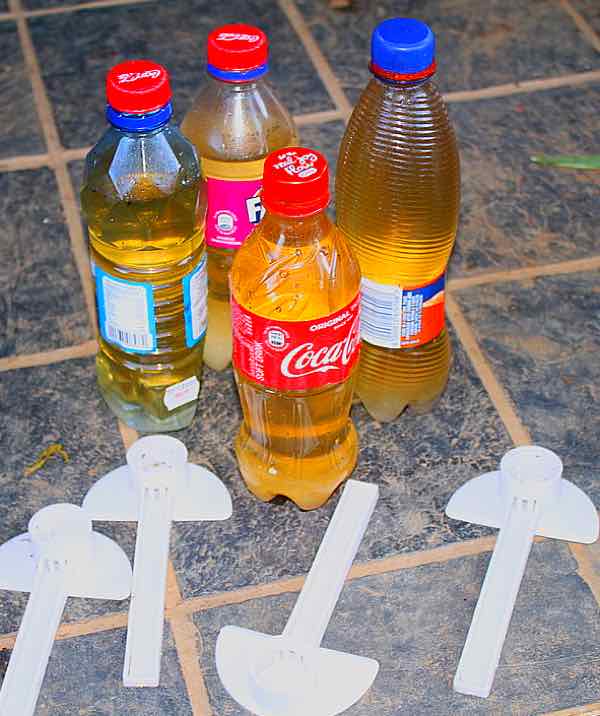 Feeding kept bees is a subject easily misunderstood. The purpose is never to adulterate the honey that is to be sold with sugar.

This page was built by Bernard Preston on 31st March, 2019.

There are two common possible reason why you might want to feed your bees.
You anticipate a long period during which little honey or pollen is likely to be brought into the hive by the worker bees; for example, during a period of prolonged cold weather in the far north of Europe or America.
You want to stimulate the queen to start laying in anticipation of a honey flow.

To encourage the workers to actually store the sugar solution for the long winter, one makes the concentration doubly strong.
To merely stimulate the queen, an attempt to fool her into believing the honey flow has actually started, one uses a much more dilute solution.
That little feeder is inserted snugly into the entrance to the hive.

With adulteration of honey so rife, the uninformed might think you are actually attempting to get the bees to suck up the sugar solution, process it as they would nectar and then store it in the honey combs. Nothing could be further from the truth.
Whilst one can never absolutely guarantee that not one fed sugar molecule might end up in a bottle of honey, that is never the purpose.
Once it's clear that the flow has started, and the queen does not need further stimulation, all feeding stops; in any event they eschew sugar once real nectar is available.

I might feed roughly one litre of a dilute sugar solution about a month before the expected honey flow, in two 500ml tranches.
Once the plants are actually flowering, one immediately stops feeding; the queen requires no further stimulation. Any nectar that is brought by the workforce is then stored as genuine honey.

Feeding kept bees
Feeding kept bees is to sustain them during a long period of dearth or to stimulate the queen to start laying in anticipation of an expected honey flow.
It's a standard part of normal beekeeping, and there is no intention whatsoever to adulterate the honey that you might buy with sugar water.

Let's say for example that a honey flow lasts eight weeks. Each and every nectar source will be different, some much longer, others shorter.
But let's work on eight weeks.
Now it takes three weeks from the day the queen lays an egg until it hatches. It's then assigned hive duty for a week or two, and is not likely to join the workforce for another two weeks.
But there's only two weeks of the honey flow left for the bees to forage for nectar and store it in the combs.
By feeding your kept bees, starting to stimulate them a month earlier, you now have a hive that that can collect and store honey, and a surplus for you, for six weeks instead of only two.
In theory you can expect three times the amount of stored honey, simply because you took the trouble of feeding kept bees.

Storage for a dearth period
You would want to be feeding your kept bees a solution of two parts of white sugar to one water to store for an anticipated dearth period; several litres.

To stimulate the queen for an anticipated flow, use equal parts of water and sugar; I work with one litre only, in two tranches of 500ml each.
I like to add any old honey that I might have stored up for this purpose. In fact you might even purchase a few bottles from the supermarket, if you would get three times the amount back.

How to feed your kept bees

Commercial beekeepers with hundreds of hives would simply place a large bowl of sugar syrup near the hives, covered with a thick layer of grass to stop the bees from drowning.
This gets the bees hyped up and you may have people and animals in the neighbourhood being stung.
We are feeding our kept bees directly into the brood chamber; then it's used for feeding the larvae.
Putting the sugar syrup into the supers is not advised; there's a greater likelihood of it being stored in the combs instead of being fed to the young larvae.
New colonies
There are other reasons for feeding, some of which pertain to specialised beekeeping like queen rearing.
If you've been lucky enough to catch a new migrating swarm then feeding kept bees is not a bad idea until they are established.
However, they do bring some stores of honey with them, and this generally only happens when there's plenty of nectar available, so it may not be necessary.

Creating swarming bee traps is a big subject all on its own.

Feeding a nuke hive

Cut a piece of 3/4" plywood; it sits tight and is unlikely to warp. And then another thinner piece of ply, about 6" square to lift the bottle lid off the frames in the hive underneath.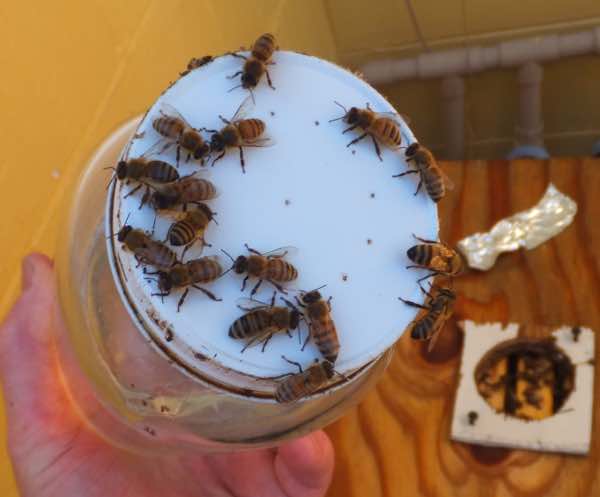 Choose a standard scrap bottle such as a mason jar. Punch very small holes.
Scroll out the lid on the two pieces of plywood, and cut holes with a jigsaw.
Here's a tip; make the hole before cutting the piece to size; it's easier and safer to handle a larger plank, keeping your fingers well away from the blade.

You are feeding directly into the brood area, and there's far less likelihood of robbing by neighbouring bees than any apparatus used at the entrance.
More about feeding you hive in winter from a Texas homesteader.

Open days

Most associations have various open days where you can learn these basics like feeding kept bees.
Most beekeepers are open-hearted folk willing to share their experience; see if you can find a beginners beekeeper day near you.

Did you find this page interesting? How about forwarding it to a friend, or book and food junkie. Or, better still, Face Book or Twitter it. 
Address:
56 Groenekloof Rd,
Hilton, KZN
South Africa
Website:
https://www.bernard-preston.com/