TURKISH HELVA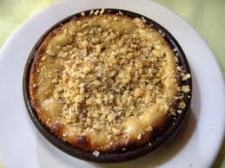 Turkish Helva is made in two quite distinct ways, really two different dishes. We first had a pie like this, oddly in a Turkish restaurant in Athens. Foolishly I didn't ask for the recipe - it's difficult to get.
I have a fascination for both honey and tahini, and the recipe we enjoyed in Athens certainly had both. It had a sweet nutty flavour... and we're going to add a handful of pecan nuts. Nuttier than ever.
Tahini incidentally is a sesame seed paste.
Right now Bernard Preston is waiting for the honey flow to start from my beehives, so this recipe, the other kind, Turkish Helva fudge, is still untested. I recommend you lick your lips - and wait a bit until we've tried it! Helen makes a divine fudge so I've no doubt we'll get it perfect. It'll be worth the wait.
Actually, because of all the sugar the fudge hasn't cracked the nod; it's junk food.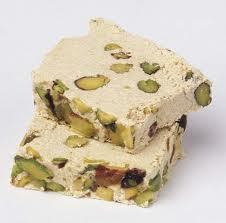 INGREDIENTS
1-1/4 cups of sugar
1-1/2 cups of tahini
1/2 cup of water
2TBS raw honey
2 TBSP chopped pecan nuts
DIRECTIONS to make TURKISH HELVA FUDGE
Boil the sugar and water to form a thick syrup.
Pour the hot syrup slowly into the tahini, beating well as it combines.
As it begins to set, add the honey and nuts.
Press the mixture onto a baking tray, oiled with a little butter.
Refrigerate. Once it has set firm, cut into squares.
SESAME TAHINI - what's that?
Sesame tahini is a paste made from sesame seeds. High in protein and healthy fatty acids, richest of all the oil seeds in phytosterols, it's an important part of the vegan diet. Plus it's just delicious! Much nicer than peanut butter, I have it virtually every day on bread, and of course in our authentic hummus recipe.

Beekeeping
If you want good Helva Turkish, you've got to have good honey. I've just realised, it's my fiftieth year of beekeeping. My grandfather introduced me to bees when I was just a lad. A fascination lasting half a century. If you've never tasted honey straight from the hive, then you're missing out big time!
How to start beekeeping is for anyone who loves the outdoors and nature, and has a sweet tooth.

USEFUL LINKS @ Helva Turkish
BERNARD PRESTON'S Lonely Road of Faith ...

Chiropractic-Help.com and Bernard-Preston.com send out a joint monthly newsletter. It covers an overview of a health topic (February 2011 issue #20: 50 PERCENT LESS PAIN), always a nutritional corner (such as MAKING YOUR OWN HUMMUS, loaded with anti-oxidants), and a piece from Bernard Preston. Sign up at the bottom of any Chiropractic Help Page, for example this one on TIETZES SYNDROME, or breastbone pain. The newsletter is free, and one click cancels it if you find it boring or irrelevant.
Did you find this page useful? Then perhaps forward TURKISH HELVA to a fellow Tahiniworm.