Meeting Daddy

Meeting Daddy is the first chapter of Book II.

A Family Affair, a trilogy by Bernard Preston.

The Bostonians
Peter's Children
The Return

The story so far; Book I ends with Janet and Santie resigning in disgust from Jansen, Hansen and Thomas. Professionally speaking they were good years but, for Janet in particular they were disastrous; first she was raped by her boss, Jan Jansen, and then her son was kidnapped by the monster; she won't set eyes on him again until the lad finds his way home in The Return.
But, of course, it was at J,T and H that they first met.
In the closing chapters of The Bostonians, Janet enters into a deep darkness; she only finds her way out of the pit when her gynaecologist recommends she has another child. But how do two lezzies have a baby?
The long drive from Johannesburg down through the rolling hills of KwaZulu Natal to the Drakensberg resort would normally be tiresome, but fortunately there was little traffic and they were in no rush. Janet and Santie packed a lunchbox and a large thermos of coffee, and several bottles of filtered water before leaving home. They left early and took the meandering road through the mountains rather than the more conventional Tollroad, where they were able to enjoy the first banks of late summer Cosmos making a colourful show along the roadside. Janet particuarly loved the deep purple, royal blooms. She had carefully considered Sam's suggestion and submitted the previous day a tentative application, together with her CV, to the Department of Justice. There were considerable benefits having a secure position working for the State though she also spent time discussing with Santie the benefits of staying in the private sector. Tossing the thoughts back and forth, she rather fancied the idea of becoming a prosecutor. The loss of income could be made up by some work on the side. She wasn't feeling in the slightest jealous of Santie's application, interview and contract with a large insurance group which had been signed and sealed, together with a very nice package all within ten days of her application. On the strength of it they were driving in the air-conditioned comfort of a new BMW 5, with Norah Jones playing her seductive love songs in the background. The car was so new that it came with the garage plates. 'Come away with me, on a mountain …' the girls quietly sang along.
A Family Affair, a trilogy by Bernard Preston

A family affair is tale of intrigue and deceit, women in love and a hapless Peter Thomas. How do they inveigle him into delivering four children unbeknowing?
Book II: Peter's Children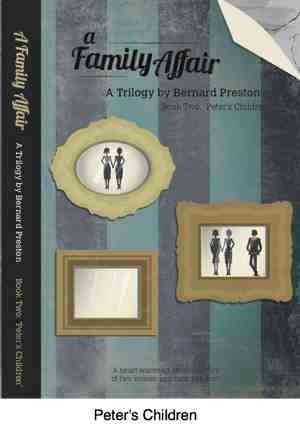 Meeting Daddy

Meeting daddy is chapter one of Peter's Children.

'Ah, this is the life,' said Janet, relaxing back in the plush leather seats. 'I rather fancy being unemployed, and chauffeured by you to a luxurious holiday resort. I think I'll stay at home and let you go out and bring home the bacon!' They laughed.
Santie knew that was one thing Janet would never do, baby or no baby.'Thinking of Aldo again, eh? I wonder how the restaurant is doing.'
'Booming, I should think. I wonder if we could ever go there again.'
'Let's make a pact. We'll take KJ there when he finally arrives home.'
'You really think he might one day reappear? Out of the blue, and we take him to Aldo's?'
'Hope, Janet. Keep it alive. It's the only thing that will sustain you. Try and forget his father. Bastard.' Whenever Santie thought of Jansen, she found herself simultaneously considering her threat made in the library, with the rasping sound of the guillotine still ringing in her ears.
They booked in at the very upmarket resort in the foothills of the Drakensberg Mountains. Neither of them had ever tried trout fishing, but the brochure's pictures of water sports and glorious hikes, interspersed with the sumptuous cuisine, had caught their attention; it was just what they needed. They resisted the temptation to bring their bicycles but the racquets and bikinis were packed. Santie stopped the sleek arctic blue car on the ridge overlooking the resort, with its neatly thatched cottages nesting in a valley stretching deep into the very heart of the mountains. 'Just look at that,' Santie sighed. 'Ah, ten glorious days.'
Janet pulled out their binoculars and focused on the huge lake dotted with white sails. 'Oh, take a look at that! On the far side next to the old willow tree.' She handed them over to Santie. A large herd of Eland were drinking, the young calves in the front with their mothers watching anxiously, and His Majesty guarding his harem from a rocky outcrop some fifty metres away.Santie gave another sigh, and started the car, riding quietly down to the reception area. They turned off the aircon, breathing in great gulps of fresh mountain air. 'I never realised until now just how much we needed this,' exclaimed Santie.
Signing in was quick and painless, and they enjoyed a glass of fresh guava juice that was provided. 'Can we come back for the sherries after the sun goes down?' Janet asked the receptionist with a laugh. They were taken on a quick tour of the main buildings. The walls were decked with beautiful paintings of dramatic eagles in flight, and tiny moutanin flowers. There were scenes of trout being netted too.
'Can you guarantee we'll see all these beauties while we are here?' Santie asked the receptionist with a laugh.
'You'll be lucky to see them all,' she replied, 'but all the wildlife paintings are local. We have several artists who come here for a few weeks each year, and we usually try to buy a painting or two from them.'
'Mm, they're beautiful,' said Janet.
'Of course, if you buy into the time-share, then you'll get so see them all eventually! May I ask a consultant to call on you?'
'Ask us again in a week,' said Santie.
Each of the 'fisherman's cottages' were marked with a glazed tile painted with a trout fly. Their's had the odd name Killer Walker. After they had unpacked Santie said: 'So where do we start? A good book, a walk or a paddle on the lake?'
'None of the above,' said Janet. 'A nice cup of strong tea for me, please.'
'Mm, good idea, there's nothing in the world that's nicer …than a nice, hot, strong cup of tea,' Janet finished the sentence for her. They were comfortable with each other, and often read books to each other in the evening. Santie had just finished one of her favourite Beatrix Potter stories. She still treasured a vague, warm memory of lying in bed being read to by a long lost mother. They laughed easily together.
After tea they put on broad-brimmed, glamorous sunhats and walked slowly down to the lake side, breathing in the scents on the mountain air. A flock of geese flew low overhead, cackling loudly and, after turning into the gentle wind like good pilots, landed on the lake with their feet spread out like skids, creating large ripples, and disturbing the mirrored water. Santie took Janet's arm and they walked contentedly down to where they could see rowing boats, parked at the water's edge.
'You drove, so I'll paddle,' said Janet. She hadn't tried her hand since leaving St Catherine's, but she quickly found the rowing was like riding a bicycle. She hadn't forgotten, even after ten years. She oared them around the lake and they quietly watched a couple black waterfowl with yellow beaks. A few fishermen on their boats and float-tubes were casting their flies, also soaking in that other pace of life.
'Imagine living like this year round,' said Santie, with a sigh.'We could, but there wouldn't be any smart German cars and of course we couldn't go off on posh holidays.'
'A small price to pay?'
'Maybe.'
A few gusts of wind sprung up, rippling the surface and they watched two teenage girls rushing down to the water's edge, shouting like hooligans. In a moment they had their windsurfer sails up and were hissing across the water. Janet and Santie watched them shooting past, bending their backs to the wind and still hullaballooing. 'I'd like to try that,' said Janet. 'It looks such fun.'
'I've tried it,' said Santie. 'It's not as easy as it looks. And you might find yourself needing treatment for your back!'
After a light sandwich, they took to the king size bed and a couple of books. Janet started a new Anita Shreve, but Santie pulled out a treasured, much loved and very weathered Alice. Though she wouldn't admit it, she was feeling rootless, and thoughts of her mother were chasing each other around. She quietly thanked the Good Lord for Janet, surprised at herself, and reached out, giving her friend's shoulder a squeeze. Janet put her book down, and stretched out towards her partner. Afterwards they both slept soundly for a couple of hours.Later, after more cups of tea and another round of Mrs Tiggywinkles, they made their way up to the tennis courts which were deserted and enjoyed a few quiet sets. Neither of them were in a competitive mood, so they played easy long rallies, working on footwork and timing at the lower altitude, and hitting the ball smoothly and cleanly. There were no lecherous eyes watching the beautiful couple in their short tennis skirts and long legs.Two days passed without incident. They read, they hiked and they slept.
'Another full week. This is glorious,' said Janet, the stress of the last few years giving slowly way to a palpable feeling of rest as they sipped a couple beers after a long hike to the base of the mountain.
'Please don't remind me!'
At the restaurant that evening they started their game again. 'That could be him,' said Janet, giggling. 'Tall, dark and handsome.'
'He doesn't look a provincial sportsman to me,' whispered Santie. 'Too much tum.'
'True. I wonder what goes through their minds when they give their semen away. Do you think they ponder the progeny they are spawning all over the country?'
'No more than the Taurus bulls, I should think,' said Santie with a giggle.
'That man over there would have fitted the bill thirty years ago,' said Janet, gesturing to a table on their left, careful not to stare. 'But he's not blonde.'
'Is that still a requirement?' Santie looked casually in the direction and then back at Janet. 'Mm, yes, good looking man, and a very attractive wife. Quite right, he's tall, grey and handsome. He might have been blonde once, though.' They laughed easily and went on with their dinner, enjoying the succulent baked trout in a mushroom and garlic sauce.
The next afternoon after their nap they made their way across to the courts and found, to their surprise, the tall, grey and handsome man playing tennis with a much younger, blonde and equally good looking man, obviously his son.
A small group had gathered to watch as the younger of the two was being comprehensively beaten in the first set by the powerful ground strokes and volleys of his father. The girls watched approvingly before going onto the next court. 'Good players, both of them, but isn't your grey man a stunning player?'
'He must have been a star in his youth. But frankly I think the younger guy is far more stunning!' said Janet.
'You're taken,' said Santie said with a grin. 'Eyes right, look the other way!' They laughed together and began to knock up. The audience started looking their way as well, a few clapping the odd good shot, which put some needle into the game and it wasn't long before the young women had a serious match on. The rallies were long and fierce with Santie trying to force a baseline and volley game of powerful drives, and Janet using subtle drops and lobs mingled with accurate passing shots. There was more clapping from the sidelines but they hadn't played a serious match since before KJ was born and soon tired. Janet won the first set but Santie took the next two, and then a third at a trot as Janet's lack of fitness after her depression began to tell.
---
Newsletter
Our newsletter is entitled "create a cyan zone" at your home, preserving both yourself, the family and Mother Earth for future generations. We promise not to spam you with daily emails promoting various products. You may get an occasional nudge to buy one of my books.
Here are the back issues.

If you suffer from heartburn plant a susu




Refined maize meal and stunting




Should agriculture and industry get priority for water and electricity?




Nature is calling




Mill your own flour
Bake your own sourdough bread




Microplastics from our water

Alternative types of water storage




Wear your clothes out

Comfort foods

Create a bee-friendly environment




Go to bed slightly hungry

Keep bees
Blue zone folk are religious

Reduce plastic waste

Family is important

What can go in compost?

Grow broad beans for longevity

Harvest and store sunshine

Blue zone exercise

Harvest and store your rainwater

Create a cyan zone at your home
That evening they both dressed a little more stylishly. It was nice to dress up and they hadn't had the opportunity for some months. Santie wore a black satin evening dress with her mother's pearls that her Aunt Maggie had managed to pinch from her father. In elegant black high heels she was all of six foot tall, and the dress showed her long legs and powerful bare shoulders to perfection. Janet wore a misty blue suit that wasn't nearly as revealing of legs and shoulders but the low cut blouse was very pleasing to every male eye. They turned more than a few heads as they sauntered into the dining room. Is was during the cheese-cake with fresh wild ijiki-jolo berries that the waiter dropped a note at their table. Santie picked it up, looking around. Mr 'Tall, grey and handsome' smiled at them. She opened the note: You ladies play a nice game. Would you join my son and me tomorrow? Three o'clock?
Santie blushed and passed the note to Janet. Janet looked up and after a quick glance at Santie called across two empty tables. 'We'd love to. Three o'clock.' He nodded, and he and his wife soon left.
'That would be nice. I don't think I've ever played with men as good as them.'
'Fantastic. Bags I playing with Peter,' said Janet.
Santie raised her right eyebrow.
Lesbianism
Lesbianism, is sexuality something you are born with, or does it come about because of indifferent or violent exchanges with men? Meeting Daddy is the theme tune of many children.

Bernard Preston

Bernard Preston is neither pro nor anti homosexuality; as the husband of Helen of nearly 45 years is unashamedly straight.
But heterosexual marriage is in such disarray, including within the Christian church, who is going to be the first to throw a stone at gays?
Meeting Daddy is pure fiction.

Nutritional Corner

ORANGE JUICE FACTS ... freshly squeezed orange juice tastes, and is, quite different to OJ.
Janet and Santie in A Family Affair squeeze their fresh OJ themselves; not in this chapter though when their daughter June is busy meeting daddy for the first time.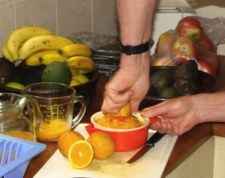 A Family Affair

Did you find this page interesting? How about forwarding it to a friend, or book and food junkie? Better still, a Facebook or Twitter tick would help.
Address:
56 Groenekloof Rd,
Hilton, KZN
South Africa
Website:
https://www.bernard-preston.com