Home bake bread flour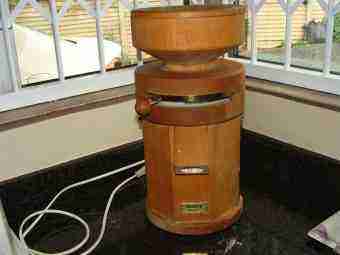 Home bake bread flour is a third of the price if you have a grinder, and your own little oven. It takes only six minutes to prepare the ingredients to make your own loaf; plus five hours of course to cook. 
---
To keep Google happy we have started removing some links. If you see a phrase, such as 'healthy flour' in bold then just type whatever you are searching for in here.

---
Take care that your home bake bread flour is made from 100 percent whole wheat. If you're going to go to all that trouble to make your own bread, and then it's worth being sure you use only the best ingredients; that's assuming you can find it; in many countries it's simply not available and beware because it has a short shelf life.
I was busy last Saturday doing one of my less pleasant jobs; that is collecting old vegetables and fruit from the supermarket for the worm farm when I met a man delivering bread flour for housewives. We got in discussion, and of course I asked him if he has a 100% wholemeal option.
No, said he, he wants to make sure that the flour has all the ingredients so he uses refined, bleached white meal and adds back some of the bran, assorted seeds and so on; it's junk, and has none of the germ where all the vitamins, essential fatty acids and minerals reside; and there are less lignans; they are the phytochemicals that prevent breast cancer; take note, ladies; one in seven.
Have you had your lignans today? They compete with circulating hormones at vulnerable sites in the breast.

Read the labels is my advice; make sure you choose the 100% whole grain option, if it's available, because the food industry cheats, using terms like multigrain and add various colourants to make the it look darker and more natural.
Home bake bread flour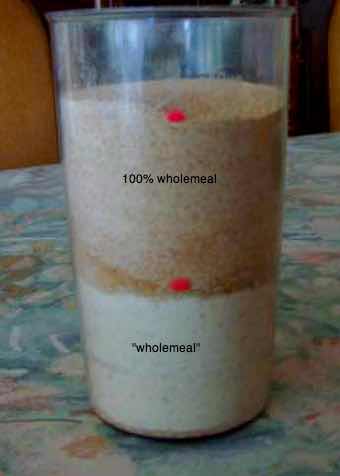 Home bake bread flour is the only worthwhile option in my opinion if you want 100% wholemeal; with all the lignans, vitamin E and minerals, especially iron and calcium, it's very healthy.
I'm sure you can see which of these is the real McCoy; it's from our grinder; that below is from the lying miller who on the packet describes it as wholemeal.

We should be aiming for about 40 grams of fibre a day, and in the average American diet we are achieving less than a half of that; that means cancer. It's also constipation. It causes headaches. It exposes you to a higher risk of stroke.

In a new study following 70,000 people over ten years, researchers found that those eating the most fibre, mainly from fruit and veg it's true, had 10% less strokes.
Another study showed that adding a one ounce of whole grains meant a 9% lower overall risk of death, and 15% less cardiovascular disease compared to those who didn't.
I could go on and on; best of all, researchers found adding a whole grain in place of one refined was profound.
For example, just substitute one slice baked with 100% whole grain bread flour, and remove one cookie; now you're in business.
Calcium
Did you know that researchers have found that adding calcium in chemical form, as is used in supplements and added to refined bread flour, is deposited in the coronary arteries, raising blood pressure and contributing to higher rates of heart disease?
Are you on blood pressure pills, but are not obese, never smoked, haven't had kidney disease but still your doctor is worried? Could your supermarket bread with added calcium be the cause.
The beauty of their findings is that calcium found naturally in our food doesn't have that effect on the arteries.

Your unrefined meal, ground at home, is quite naturally a rich source of calcium. Granny shouldn't be taking it as a supplement; it just adds to her blood pressure woes; instead she should be walking daily and baking with home bake bread flour; so should all of us.
Just the savings from getting calcium and vitamin E from your own home baked bread will pay many times over for a high quality wheat grinder.

White bread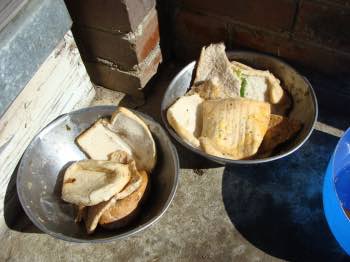 Whilst in search for more food for our worms and chickens, I discovered to my astonishment that they won't devour white bread. Even stranger is that our dogs won't eat it either, unless very hungry.
Just look at how they turned up their noses at this; it just ain't food, in their opinion; but give them, both dogs and chickens, stale slices from our home bake bread flour and they go crazy over it.
It seems that worms, hens and dogs are smarter than humans at recognising what constitutes good food.
We were at the local green grocer, trying to grasp the meaning of the race to end waste; it's not a popular subject. That's where the nasty bread came from.

Committing to healthy food means you have so much more energy for all the things you are passionate about. That's where the vitamins and minerals, and the vital phytochemicals that promote health and help prevent disease are to be found.
I really don't get it that we are so reluctant to focus on healthy living, and even feed the supermarket crap to our children; no wonder they are constantly on antibiotics.
It's true it does take some extra time, and more money initially if you want real home bake bread flour; can you imagine, neither the good wife nor I have been to the doctor in over a year; we take absolutely no medication.
So you either spend time and money on visiting doctors, or you dedicate it to healthy living; take your pick; I've made my choice. Home bake with 100 percent bread flour is what it's all about for our family.
Cake flour should be reserved for high and holy days; it's junk of the highest order; I hesitate to add the word food.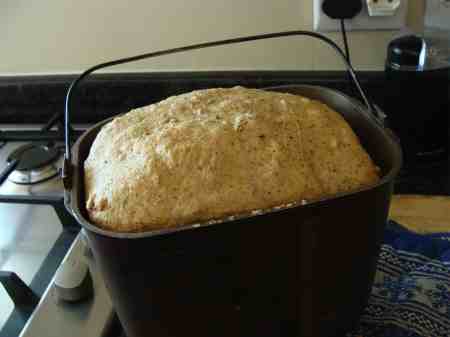 Supermarket bread uses chemicals to speed up fermentation; everything has to be done in a hurry. And because we've lost the art of savouring our food, we don't even notice how tasteless it is.
Give this home bake sourdough loaf a long fermentation time for the natural enzymes to act on the bread flour and it brings out the most delicious flavour; so good that I can usually hardly bring myself to add various jams and our raw honey, or peanut butter.
Just plain bread and butter; to die for, and surprisingly we do not put on an ounce of adipose fat with all these home bake carbs; it has all the fibre and nutrients to make for robust energy for all the things we are passionate about.
Note too that our easy sourdough bread recipe not only tastes profoundly more exciting than the dull supermarket loaf, but given the extra time, the enzymes that the bacteria bring to the party start breaking down the offending proline in gluten that so many of us are allergic to. And it has a longer shelf life.
Yes, initially it does take extra time and money; but once you're in the groove of home bake bread it takes only six minutes a day. It tastes so much better, is better, has half the salt and costs a fraction of the supermarket loaf. Just what are you waiting for?
Wheat berries

Sourcing wheat berries may be your biggest obstacle; I've located a farmer, and buy two 50kg bags each year; in fact next year it'll be three; that's where the savings are that will pay for your grinder; they aren't cheap; take your time testing them before purchasing; stone ground is best for bread flour. I wouldn't get it from a mail order.
My Hawo for home bake bread flour is twenty-five years old and going strong; I use it every day. It wasn't cheap but amortized over so long a period, it's paid itself off many times over.
Healthy flour
Life without medication

Artisan bread

with Jamie Oliver.



Use the Site Search function to locate those links in bold above.

Bernard Preston

»
Panera bread menu recipe
» Home bake bread flour
Have A Great Story About This Topic?
Do you have a story or question about bread making? Share it! Bread nuts are a small community who want to be healthier and sharing tips and questions is what it's all about.
Did you find this page interesting? How about forwarding it to a friend, or book and food junkie. Or, better still, Face Book or Twitter it. 
Ignore: EU law insists even though we do not use cookies that we place the following on our site. "Advertisers use cookies to personalise content and ads, to provide social media features and to analyse our traffic. They also share information from your device with their social media, advertising and analytics partners."