MIKE SMALLBONES SCHEDULE
MIKE SMALLBONES SCHEDULE traces the work of the REGIONAL MINISTRY TRAINING CONSULTANT of Scripture Union Africa.
Reported by Bernard Preston.
Dear Friends
It has been a while since you last heard from me.
AIM LOWER LEADERSHIP EXPERIENCE
In my last update I wrote about the Global Children's Forum (GCF) I attended in Nairobi in May. I was asked, and have agreed, to be part of a small working group to come up with a curriculum for a training "experience" for those involved in ministry to children globally. It is to be known in the AIM LOWER LEADERSHIP EXPERIENCE (ALLE). ("Aim Lower" is the name of a video clip produced a few years ago about the importance of children's ministry. You can see this by clicking on the following link: https://www.youtube.com/watch?v=mGpKH7MU4Sk It is worth looking at.
As a result, I will be travelling around a bit again! (Yes, just when I thought those days were over!)
The next meeting of the working group will be in Philadelphia, USA in September, so I will be away there for a week or two. (This trip is subject, of course, to finance being available! Please pray that the request for funding submitted by Wendy Strachan, the SU international Children's Ministry Coordinator, will be favourably considered.) I will also be meeting with Wendy in Gauteng in August as we check out a venue just north of Pretoria offered to us for part of the course
Please pray with us about this project. It is aimed at training people with a passion for ministry to children through a one year programme which includes a four week residential "intensive" which will cover theological and practical sessions relating to ministering to children in the 21st century, as well as leadership and communication. The aim is to equip people who will be able to influence and train others.
iTHEMBA
I have really enjoyed my sessions with the volunteer staff of iTHEMBA. The feedback has been positive, for which I thank God. The sessions have included both Bible Studies and training in various ministry related topics. This will continue over the next half of the year although with some changes to the programme. I will visit the projects the teams are engaged in and hopefully provide some helpful assessment of them while also informing the training programme for the rest of the year. I am meeting with Sam Walker to do more planning about this next week.
FRIENDS AND FAMILY
During the last two months we have met up with a number of people we have shared part of our life journey with. Perhaps it is that the older one is the more important old friends become?? But it is a great privilege and joy to meet up with people whom we know so well and have many common experiences and memories of times together.
It started with the 80th birthday tea for a friend and SU colleague from 1970. The next was a visit to a lady in her late 90s. She and my mother met in 1956 and began a wonderful supportive friendship that lasted till Mom died 2 years ago. I also visited another wonderful lady who we have known since moving to Underberg and who has been one my prayer supporters for a long time.
On our recent trip to Cape Town Elaine and I stayed over en route with three couples we have known for ages: one from our school days, one from our Pretoria days and one from our Underberg days. These are all people we have shared different stages of our lives with and now happen to live in very convenient stopping off places on our travels to the Cape! For most of us, there have been some very tough phases of our life journeys. It is wonderful to be to share our experiences and know how to pray for each other. We have all experienced God's faithful presence, even in the darkest of times.
As I was writing this, I was reminded of that wonderful story where Jonathan met his friend David who was at the time utterly exhausted after being chased around the desert by Saul. Jonathan "helped David find strength in God". You can read about it in 1 Samuel 23. Don't we all need friends, and need to be friends like that?
Time with MARION, DUNCAN AND IZZY was the objective of the trip, and this we had! We spend a wonderful few days together at Struisbaai (Cape Agulas), and of course, visited the southern-most tip of Africa.
Elaine and I are so grateful to God for the blessing of family and friends old and new.
Elaine is well and starts teaching again on Tuesday, 16 July after the winter holidays.
Thank you again for your friendship and prayers.
Oh, and no, I have not abandoned the writing of Mike's Meandering Memoirs! Episode 2 IS coming!!
Mike December 2012
Dear Friends
My last Prayer Update for 2012.
GLENHAVEN Unfortunately, a permanent manager for the camping centre has not yet been found. A number of Applications have been received and a short list prepared. I am not sure when the interviews will be held. In the meantime there is another temporary person at Glenhaven for the month of December. I am not sure what happens after that. Please do pray for the right person.
After a lot of thought and prayer, I have decided that it is now time for me to put Glenhaven behind me. I have to confess to finding my recent involvement more stressful than I had anticipated. I made two visits recently to show the new temporary manager around the site. I have indicated to SU that these were my last "official" visits. I have however, agreed to serve on the selection panel as a permanent appointment for Glenhaven is found.
One of my big concerns is for two long serving and very faithful staff members, Margaret Dlamini and Buyi Shoba. Margaret was working at Glenhaven when we arrived in 1989 and Buyi started soon afterwards. They feel very uncertain and are concerned about their future. Please pray for them.
LIVING HOPE Reports from the Living Hope conference in Kuala Lumpur have been very positive. I have attached a report from the SU CEO, Janet Morgan and International Chairperson, Colin Sinclair for you interest. (The address for the website mentioned in the document is at the bottom of the page.)
PERSONAL I have to confess to finding the last few months as I have "wound down" after a fairly hectic schedule which included a lot of travelling as you know, rather strange and at times have felt a bit lost! I am not used to not having a day crammed full with things which just have to be done by yesterday. The year has not been a good one as far as my health is concerned, although I am much better now. But I have enjoyed having unhurried times with Nicholas (nearly three) who just loves my workshop and has hammered in many, many nails while I was working on an old chest of drawers which I have restored. Doing a good deal of gardening has resulted in a garden we enjoy and I am proud of. I, together with Elaine, sang in the PMB Amateur Music Society choir's performance of Handel's Messiah, something I have not done for a long time and we will be continuing with our interest in choral music, by attending the Royal School of Church Music Summer School in Kimberley in the first week of January. Our church has been without a minister for the last 9 months and I have been quite involved in various things related to keeping a church running. Some of this has been quite a challenge!
So life has been very different and certainly not boring!
I started the "retirement" with the intention of editing my training material. I have to report that I have not done much of this at all. Maybe I will feel more enthusiastic about this task in the new year.
And the future?
While, not altogether clear in its detail yet, I will be giving some time to a ministry to children and families, iThemba Projects. They work in Sweetwaters, a huge sprawling semi-rural/urban area outside PMB, and I will be assisting with training and mentoring of staff and volunteers and possibly in some other areas as well. I recently spent a day with some of the staff and visited a few of their projects and activities. They have an impressive and very holistic ministry mostly to primary school children as well as being involved in improving the quality of pre-school education and care, both by equipping the teachers/carers through training and resources. I will tell you more as it works out.
Once again, thank you for your prayers and for many who have continued to support me financially as well. It has been a very humbling experience for both Elaine and me as we have been so blessed by God over the last 43 years in SU. Many who read this, have been fellow travellers for various stretches of the journey. We have valued your companionship! Thank you!
Apart from iThemba, I will still be active in various ministry events with SU Africa, even though the "formal" link has ended. Shaping for Service remains close to my heart, and I still hope to be involved in setting up a few more of these in the new year. I will therefore continue to be writing and sending out my prayer update should you wish to receive it. Your prayer support will still be needed!
We pray for you all over this holiday season that the Son of God will "come again" in a very meaningful way during this season of Advent, bringing his gifts of hope, peace, joy and love in abundance.
With much love from both of us.
Mike and Elaine Dear Friends
Greetings from a rather cold and miserable Pietermaritzburg. (Roll on summer!!)
Life seems to be so full at the moment and I find myself pulled in quite a few directions! Life is certainly not dull and we are very conscious of God's presence with us. At the beginning of June I was not well and according to my GP had the symptoms of TB (which did not surprise me in the least, given where I have been and what I have done in the last 10 years.). He added that he did not think that I did in fact have TB and treated me for a lung infection, I am much better now, but was advised to have pathological tests for TB by two doctor friends. I am waiting for the results at the moment. In spite of not feeling too well, Elaine and I travelled to Cape Town to spend time with the family there. We thank God for safe travel and good holiday.
I had planned to help with the training course in Abidjan (Cote d'Ivoire) at the end of this month, but I have delayed a final decision till I get the results of the medical tests. Will let you know if and when I go.
You will remember my telling you a couple of months ago about the tragic events at Glenhaven in Underberg. Recently, the National Director of SU asked if I would be willing to provide some assistance in the form of advice as to what to do now and assist with the management of the site till a competent manager is appointed. This I have agreed to do, and it seems that for the next couple months I will go to Glenhaven once a week (depending on need) to assist with supervising the staff and the interim manager. The events at Glenhaven make a really sad tale, almost hard to believe.
· The director of Glenhaven was arrested on charges of sexual assault in March. · In June the key labourer somehow managed to hit a tree with the Centre bakkie, putting it out of commission. · Two weeks later, after an argument with his girlfriend, he drank poison and died.
The wife of the ex- director, and also the admin person has now left Glenhaven as well. In addition to all this, we have discovered that a number of important and valuable items of equipment are no longer on site. We were told by the staff that the ex-director sold them as scrap! (There is no record of any income for this.) A young man who has been a leader at the camps has agreed to stay at Glenhaven for the month of August. Few camps have been booked so there is little income.
I understand that the trial starts at the end of this month during which I gather there are some children/young people who will be testifying. Please pray for them and that justice will be done.
Please pray for all involved in talking about and planning for the future of Glenhaven and finding the right person/couple to appoint as director. A lot of work needs to be done to restore the confidence of the public in Glenhaven, even in Scripture Union. I visited a lot of people in Underberg and was encouraged at the goodwill which there is, notwithstanding the shock they still feel at what has happened. Lots to pray for here! Please also pray for the leadership of SU South Africa as we look to God for wisdom for the decisions which have to be made.
I had planned to start the editing of my training material this month, and hope that I will find time to start doing that. It is a big task and really needs to be done.
Thank you again for your support and friendship.
Mike
MIKE'S PRAYER UPDATE SEPTEMBER 2011
Dear Friends
I was beginning to feel rather guilty because I did not write a Prayer Update for August, till I received a newsletter from a colleague in Namibia. He started by saying that he hoped that we enjoyed his Newsletter last month. But if we did, it was a forgery – he did not write one! So I am not the only one.
One reason was the fact, that there really was not too much to tell you!! It has been fairly quiet. But it is hotting up a bit now, and the next three months will see me in three different countries across the continent. (Four if you count South Africa!)
KENYA AND RWANDA 13-28 September.
SU Francophone Consultation (12-16) in Nairobi. There will be the leaders from all the French speaking national movements of SU to discuss problems which are unique to their situations. In case you are wondering why this is being held in an English speaking country, it is simply because it is much cheaper and easier for most countries to enter Kenya. There will also be representatives for SU Europe. I will sit in on some of the sessions – if someone is there to interpret for me!!
Christian Camping International (CCI): You may remember that I was very involved in this organisation for a number of years, in SA, and then in trying to introduce it to the Church in East Africa. It was quite tough going, but when I left, Africa Christian Camping (ACA) had come into being and was running regular training events in Kenya. This has now grown to the point where ACA is being accepted as a member of the CCI worldwide body. This is happening officially on 14 September in Nakuru, about 2 hours north of Nairobi. I have been invited to attend this milestone event. Please pray that we will be able to work out suitable transportation so that I can attend.
Orientation Course in Kigali, Rwanda: (18-26) Emmanuel Todjo and I will be leading this course. It has to be in French and English. We are also involving a young Burundian staff member, Leonidas Ninyibuka, as a facilitator. Leonidas was trained at our first Shaping for Service course in Nairobi in 2009. This will some practical experience for him as well. Please pray for Leonidas, Emmanuel and me as we lead the course, and also for the new staff who come from Kenya, Rwanda and Burundi.
KENYA 21-26 October
The Regional Team for SU Africa meets twice a year to discuss and plan for the work of SU in Africa. This meeting will deal with the plans for my replacement and well as a review and up-dating of our Strategic Plan. I have been asked to do some preparation for this and would appreciate your prayer for wisdom.
YAOUNDE, CAMEROUN 8-17 November
Shaping for Service Training for the French speaking countries in West Africa. We are grateful to God that we now received the materials in French. We have also had a gift of $2500 towards the costs. While thanking God for this, please pray for more!!
And finally, some family news . . .
Nicholas (19 months) is a budding pianist – really loves the bass! (Oh, and soccer!) His sister Gemma (5 months) has a good voice, but not too musical yet! Cousin Izzy's (4yrs) interest seems to be more in the direction of the visual arts They all bring us a lot of joy.
We are facing the realities of age – Elaine's teaching contract comes to and end this year and will not be renewed because "she is too old". She really would like to teach for a few more years, and there seems a good chance at another school. We will know this week. Otherwise apart from a bit of flu, we are in good health. We are really enjoying our church involvement, St Matthew's, Hayfields where Elaine is a layminister. I am a church warden, preach occasionally and play the piano once or twice a month. I was recently involved in the election of a new bishop suffragan for the Anglican Diocese. Quite an experience! It was my privilege to propose someone who actually was elected out of 6 candidates, Tsietsi Seleoane who was our minister in Underberg. A great man, whom I have no doubt will make a very positive contribution to the Diocese of Natal.
Thanks again for your prayers.
Mike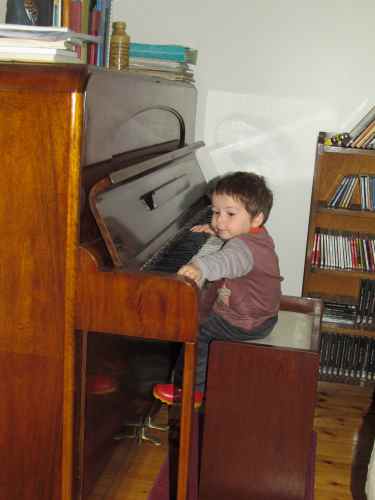 February
I am writing this from the Javouhey Guest House high above the city of Freetown, Sierra Leone. It is beautifully cool compared to the incredible heat and humidity of the city, and of Lagos, Nigeria where I spent a week before getting here.
This first part of my letter will be a brief account of what we have been doing, and the second part will be a more detailed description of some of my experiences as well as description of the places I have been for those who have more time to read! You will find that in the Attachment.
LAGOS
Wendy Strachan (SU International), Emmanuel Todjo (Cameroun) and I conducted the second Shaping for Service Training Course in Africa. We had senior staff members from Ghana, Nigeria, Gambia, Liberia and Sierria Leone. The Nairobi Course of November 2009 was a pilot course, and we made quite a few changes for this one. It really went very well. We felt we had the right people – leaders in SU who would be able to train others in their national movements. There were 27 SU Staff, and we had 3 people who were at the first course doing a number of the training sessions as well, as part of their training. They were brilliant, and able to communicate to their peers far better than those of us from "outside". Thank you for your prayers. I believe the course went well and the delegates were inspired, challenged, motivated and equipped to be leaders of SU in their areas. Many of the concepts and ideas brought to them were new and took some "digesting". It was a privilege to share with them.
SIERRA LEONE Staff from Liberia and Sierra Leone
Getting here was a real adventure – you can read about that below in the attachment! This is a Senior Staff Conference, the first one for this sub Region, which includes Cote d'Ivoire, Liberia and Sierra Leone. I was asked to do a two day course on Holistic Ministry. This has been received extremely well and most have mode commitments to do things differently with more attention paid to the contexts of their young people. I really believe that God has been at work. This is a small group of just 10 people, French and English speakers. (This always presents a challenge!!) It has struck me again just how little exposure people in these countries are to things which we take for granted in South Africa.
6 – 14 May.
I will be in Nairobi for our Regional Team meeting, plus a couple of one on one meetings with some of my colleagues. This Team meeting has some rather tough issues to discuss, including the serious financial position of many of our national movements in Africa and some important staff related matters. We really will need the Holy Spirit to guide us.
7 – 11 June.
The Southern sub-Region will be holding a staff conference at Stoney Ridge near Johannesburg. I have been asked to assist some training sessions and also to lead a session entitled Going Green with Scripture Union – a Biblical Basis for Caring for the Environment. It has been really interesting for me to prepare for this, and I am even more convinced that Christians should be involved in discussions and action concerning the serious environmental issues of our day. I also hope to be introducing the series of 5 programmes on this topic for our primary school Bible Clubs in Africa which I have been working on.
While this conference is intended for all the countries in the southern part of the continent, many are unable to send staff for financial reasons. This is the first conference for a long time, and is also doubling up as an Orientation Course for new staff. There has not been an Orientation course for three years. This is an important event.
Please continue to pray for our SU people in Cote d'Ivoire. While there was been some resolution to the political situation and the civil war is officially ended, the violence continues. Jules Bale (one of our Regional Council members, a magistrate in Cote d'Ivoire) and his family were attacked in their home recently. Mercifully none was badly hurt physically, but badly shaken. A lot of their possessions were stolen. This is probably the experience of many innocent people.
Mike Smallbones support
I don't think it takes any imagination to appreciate that Mike's ministry costs money. Hard cash is needed to buy airline tickets, pay for accomodation and food in these countries that Mike visits in the Lord's work.
Plus of course he too has a home, rent to pay... if you feel led to make a small regular contribution, both financial and in prayer, it would be an enormous encouragement to him.
One monthly tithe per year would make a huge difference to this ministry. Would you prayerfully consider it? Mike Smallbones support ... One hundred percent of your love gift goes direct to him.


Mike's plans for 2010
In Mike Smallbones Schedule, he notes:
Work-wise, I was supposed to go to Ghana at the end of January but the training course was postponed to a date still to be finalised. Quite a relief actually. My time has been taken up with so many little things which have turned out to be BIG things! Thankfully, I have more-or-less cleared the decks and am now preparing for my next trip.
CAMEROON: Saturday 13 – Monday 22 February.
I fly to Douala, and then have to travel by bus to Yaounde (about three hours I am told) for a NEW STAFF ORIENTATION COURSE which I will conduct together with my colleague, Emmanuel Todjo. Please pray about this. Most of the participants are French speaking, so I will be working with an interpreter which I do not find all that easy. Although I have run many Orientation courses, this one is a bit different as we have changed the programme a bit and added a few new subjects such as SU and the Environment and also a session on Culture. These will be "test runs" from which we will shape future courses. As you pray for the course, please also pray for my travelling.
NAIROBI: Tuesday 22 – Friday 26 February.
I will return to SA via Nairobi. (The flight is direct from Yaounde to Nairobi, so no bus trip will be necessary, thankfully.) Here I will be meeting with Wendy Strachan of our SU International team to talk through the plans we have to replicate the Shaping for Service Training which we ran in Nairobi in November last year in other parts of SU Africa. As things are at the moment, I may be making a day trip to Kampala (Uganda) to meet with my assistant in the Children's Ministry department, Beth Baleke, to help with her plans for the year.
PLANS FOR MARCH:
There is no travelling planned, so I do intend to take a 5 day Retreat for prayer and planning in preparation for the next two years of ministry. I am feeling quite drained physically and spiritually, and need a bit of the "top up".
PLANS FOR MAY: NAIROBI
The next away from the office activity will be the SU African Leadership Summit (ALS) in Nairobi from 18 – 23 May 2010. This event is the first of its kind and we believe a really important gathering of the national Scripture Union leadership from around the continent. The intention is to look at critical issues facing the various areas of SU ministry in Africa. Attention will be given to issues relating to Children's Ministry, Youth Ministry and Bible Engagement. I am responsible for the session on Critical Issues relating to our ministry to children. Please pray for me as I finalise the input for this session and prepare the discussion questions. I will also be producing a Power Point programme to go with it. The intention is that we should deal with current issues facing our ministry and work on practical ways of responding. The theme of the ALS is "Hope and Transformation". This comes from our Vision Statement:
" Children and youth following Jesus, filled with hope and transforming the families and nations of Africa.
PLANS FOR JULY: GHANA
PLANS FOR AUGUST: BURUNDI
PLANS FOR OCTOBER: JOHANNESBURG
PLANS FOR NOVEMBER: MADAGASCAR AND NAIROBI
MY FUTURE:
Although my support is not where we would like it to be, there have been a number of commitments, which would indicate that I should continue in my present position and have agreed to do that. From April, however, I will try to reduce the amount of travelling and spend more time writing training materials and other papers related to SU's ministry in Africa. I do believe that this is what God wants of me.
Elaine is well and continues teaching Maths at Pietermaritzburg Girls High. Her learners did very well in their final Maths exams last year which was very gratifying. Four of them appeared on the front page of our local paper.
Thank you for your prayers and your support.
Mike
Update: First, Mike Smallbones schedule: report back after his October / November African jaunt ...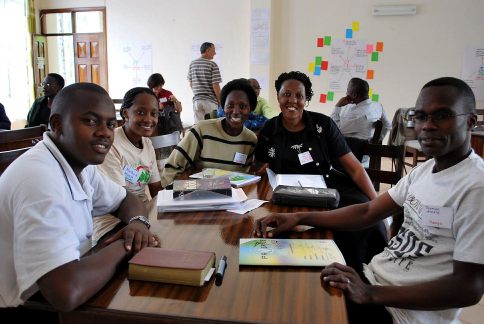 Mike Smallbones schedule: SHAPING FOR SERVICE
1 December 2009.
Mike Smallbones schedule:
I returned from Central Africa utterly exhausted, but very fulfilled from the training "Shaping for Service" in Nairobi last month where I was part of the Scripture Union International team who lead 25 carefully selected young (mostly!) national Scripture Union leaders from 11 different countries on the African continent.
One hears so much that is depressing and negative about Africa. I wish more people could meet some of the emerging leadership. Unfortunately, many are dominated by, and really struggle with the older and very conservative and hierarchical leadership structured above them. They certainly need our prayers and encouragement to persevere.
My colleague from Cameroun, Emmanuel Todjo (pictured in the last news) and I together led two sessions entitled "Issues Facing Christians in Africa Today" in which we tackled some serious cultural and traditional values which run contrary to the values of the Kingdom of God as introduced by Jesus. The session started with those radical statements of Jesus in Matthew 5:
"You have heard it said ... But I say to you ... " Sermon on the Mount.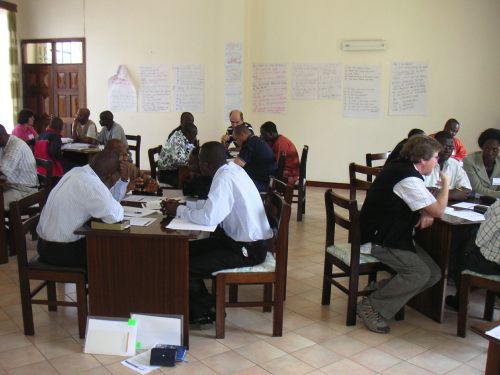 Mike Smallbones schedule:

We then asked the group to identify what they had "heard said" about three different issues which we used as examples
corruption,
leadership
gender.
It was emphasised that "hearing" was not necessarily confined to words, but attitudes, cultural and traditional customs, as well as accepted practices make powerful contributions to the values we have.
30 minutes of discussion in small groups produced very insightful results. The next step was to ask: what is it that Jesus says about these issues? For many, perhaps most, this was the first time they had ever thought of their values in this way. It is clear the Church is not really addressing these crucial issues. All agreed and gave instances where corruption, dictatorial and domination-style leadership and the devaluing of women and girls is as common in the Church as in society as a whole. What Jesus says, has not been heard, or is being ignored.
Emmanuel with great brilliance took us all back to the "roots" which make our behaviour in these areas acceptable – cultural stories, practices, belief systems etc. As one brought up in apartheid South Africa, this was very helpful in understanding the attitudes which my own journey as I struggles to shed false values.
Other training sessions in the programme covered
Servant Leadership,
Communication,
Hermeneutics (How to interpret the Bible) amongst others.
The sessions were all very interactive and creatively presented. This was also very intentional as we really wanted to show that communication is not limited to preaching!
I believe that these young leaders – men and women – left feeling really challenged and committed to being instruments for the Kingdom of God where they live and work. Please pray for them. It will not be easy. But Jesus gave us this wonderful promise as we set out to
---
"make disciples….teaching them to obey all that I have commanded… I will be with you always."
Matthew 28:19, 20
---
CELEBRATION - African style
Mike Smallbones Schedule November 2009.
Dear friends,
Mike Smallbones Schedule:
Tomorrow (November 12) I leave for my last trip for the year 2009.
I will be back in Nairobi at a beautiful Retreat centre called Resurrection Garden, for our two week training programme "Shaping for Service". We would really appreciate your prayers for this course. It will be the first time it has been run, so it is a kind of a try out. Most of the input will come from our international team members, Janet Morgan, Wendy Strachan, Terry Williams and Clayton Fergie. Unfortunately one of the team, Pauline Hoggarth, has taken ill and is unable to travel. As mentioned last month, the plan is to replicate this training across the continent over the next few years.
A tremendous amount of thinking and praying has gone into this course. We have invited two groups of key people:
One group of 14 who are to be trained as trainers and
another group of 12 who will attend the main course only, together with the trainers.
I will be working mainly with those being trained as trainers. Staff attending are from the following countries:
Kenya, Uganda, Tanzania, Burundi, Sudan, Zambia, Zimbabwe, South Africa, Namibia, Nigeria and Ghana.
The Training of Trainers section starts on Friday 13 November. The main course starts on Monday 16, concluding on the evening of Friday 21. The Trainers stay on for a further two days.
The programme includes
reflecting on God's Word and Mission which looks at how we should interpret the Bible,
an in-depth look at understanding our mission context (the communities we are working with), as well as
teaching on Kingdom Leadership and thinking Biblically about issues facing African Christians today.
Please pray both for the presenters and for the participants. Many will no doubt find this quite a "stretching" experience!
Regional Team and Executive
Thank you for your prayers for the Regional Team and for the "Mike Smallbones Schedule!" and the Regional Executive meetings held last month. These meetings are seldom the most exciting on the calendar, but they are important for assessing how we are doing and together thinking through what we believe God would have us do in the future.
Mike's Future
The future of Mike Smallbones Support?
I am still thinking and praying about my response to a definite invitation from the Regional Executive to continue for a further two years after my contract ends in March 2010. I will give more time to this when I return from Kenya.
As a family we are all doing well for which we thank God.
Thanks for your support, your friendship and your prayers.
Mike
Mike Smallbones
REGIONAL MINISTRY TRAINING CONSULTANT
Scripture Union Africa
47 Steele Road
Pelham
PIETERMARITZBURG
3201 South Africa


MIKE SMALLBONES future with serving the children of Africa in 2010 ... read more.

MIKE SMALLBONES support ...


Please feel free to forward Mike Smallbones Schedule to any and all whom you think would be interested.
From Mike's Schedule to FATHERS AND SONS ...


From Mike Smallbones Schedule Mikes Corner ...


From Mike Smallbones Schedule Bernard Preston home page ...


Mike Smallbones Schedule
Did you find this page useful? Then perhaps forward Mike Smallbones Schedule to fellow Christians.